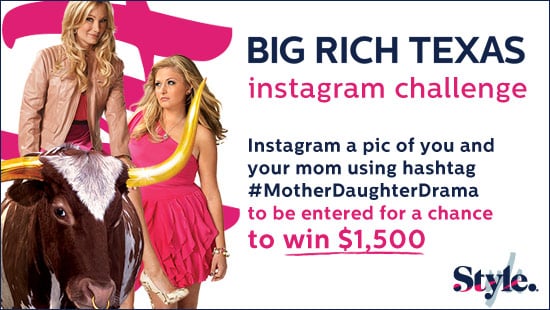 There's a reason they say, "Save the drama for your mama!" It's because, no matter how old you get or how miffed you get at each other, there's no love in the world like the one that exists between a mother and her child. And though the mother-daughter relationship in particular has the potential to get extra . . . well, let's just say feisty at times, that's only because there's so much affection deep down inside.
Consider the Southern belles on Big Rich Texas, now heading into its third season on the Style Network. Think you have little in common with these mega-shoppin', champagne sippin', country clubbin' gals from the Lone Star State? Well, then you won't believe the high drama — and yet highly relatable — antics that go down between the docu-series's sassy mother-daughter duos (and their friends!).
Love the mother-daughter drama of Big Rich Texas? Celebrate the Sunday premiere of Big Rich Texas by honoring your own mom! Instagram a pic of you enjoying a moment together, or of Mom savoring some drama-free time alone, for a chance to win a big, rich $1,500 cash prize!
How to enter:
Take an Instagram photo of Mom alone or the two of you together.
Hashtag #MotherDaughterDrama on your photo to enter for a chance to win.
So snap to it — and no bickering!