Binders Full of Women Meme
Romney's "Binders Full of Women" Quote Sparks Internet Meme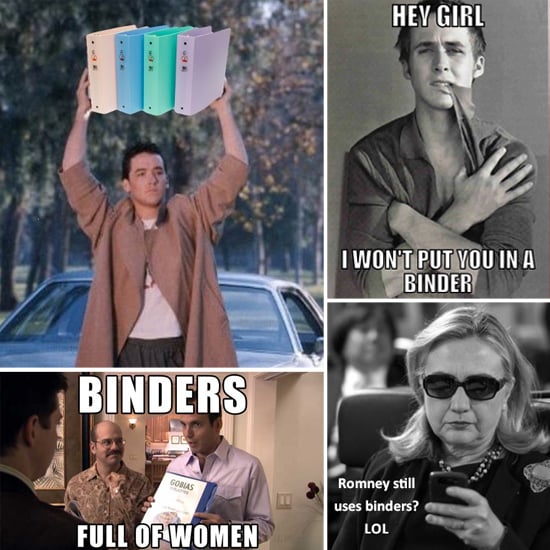 Big bird, meet "binders full of women." Before tonight's second presidential debate between Barack Obama and Mitt Romney had even finished, there was a Facebook page and Tumblr devoted to poking fun at Romney's "binders full of women" quote. Not to mention the hashtag #bindersfullofwomen is trending on Twitter. The story behind the meme? When asked by a woman in the audience about inequalities for women in the workplace, Romney explained how he "took a concerted effort to go out and find women" to become members of his cabinet. He added:
"I went to a number of women's groups and said, 'Can you help us find folks?' and they brought us whole binders full of women."
This explanation of how he recruited women to his cabinet didn't really answer the young lady's question on what he would do as president to ensure equal pay for women, but it sure did fuel the Internet meme fire. (Obama answered by talking about how the first bill he signed while in office was the Lilly Ledbetter Fair Pay Act and how women's health and contraception issues affect women's pocketbooks as well.) As of now, the Binders Full of Women Facebook page has 161K (and counting) "likes," and the Tumblr site includes everything from the Olympic-inspired "McKayla is not impressed" meme to "Texts from Hillary." What did you think of Romney's debate remarks on fair pay for women?