Body Language and Attraction
Body Language That Doesn't Lie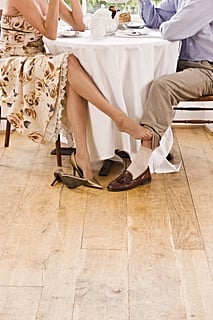 If, like me, you're sometimes clueless to being hit on, it might be time to pay more attention. A study found that those who can determine when someone's attracted to them have evolutionary advantage over people who miss the signals.
So for those of us who are less evolutionarily endowed, how are we to know a guy is interested? Here are four body signals that are dead giveaways.
Body position: Barring space limitations, he will face you directly, and his toes will point at you or his legs will cross toward you.
Touch: He'll find any excuse to touch you or invade your personal space.
Fidgeting: If he's less confident, he'll probably touch himself — innocently! — instead of you. He may run his fingers through his hair, play with the buttons on his shirt, or adjust his tie.
Eyes: Everyone knows light, or lack of it, makes pupils dilate, but did you know attraction does, too? He can't control this, so it's a great way to tell if all else fails. Just make sure it's not the dim-lit bar!
If all that sounds obvious, test your body language IQ with our quiz.