Books on Gossip Girl Season 4 Premiere
Gossip Girl: What Are They Reading?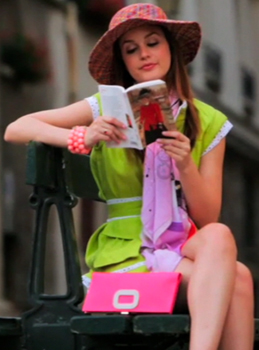 Literature worked its way into the season four premiere of Gossip Girl last night. When Blair isn't staring at a Manet in the Musée d'Orsay like a common study abroad student seeing Paris for the first time, she's overdressed for shopping and reading the prolific French novelist Colette.
We see Blair engrossed in Gigi, and what appears to be the French edition at that! It's about — of all things — a young woman training to be a courtesan when she's swept off her feet by a rich, powerful, and cultured man.
There was another, more-telling book read in this episode, though. To find out, keep reading.
Juliet, the stalker of the gang posing as a Fashion Night Out volunteer, is reading Edith Wharton's The House of Mirth when she meets Nate, which can only be an ominous foreshadowing of her character's fate.
The House of Mirth is about a formerly wealthy young woman who finds herself newly poor. She maintains her appearance among New York's elite by borrowing money and clothes (did you see her sneak Eleanor's samples when she took the price tag off that dress?). Her devious doings ultimately unravel, and her wealthy friends cast her out of the inner circle, which differs from every other Gossip Girl plot in no way whatsoever.
Find out more about the fashion and beauty from last night's episode on Fab and Bella.