Brave Interview With Producer Katherine Sarafian
Why Pixar's First Leading Lady Merida Is the Bravest Princess of Them All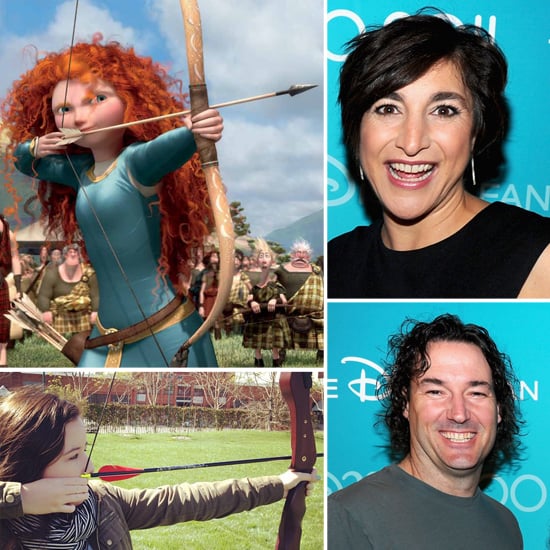 I attended a Pixar event at the animation film company's HQ for its flick Brave, out today. I was able to interview the director Mark Andrews and producer Katherine Sarafian, learn all about Scottish traditions, and even channel my inner Merida with archery lessons. Not only am I hooked on archery (pretty proud of my bull's-eye), I'm also hooked on Brave's heroine Princess Merida — Pixar's first leading lady! But don't let Merida's royal title fool you. As an adventurous girl in ancient Scotland who'd rather shoot arrows than get married, she's far from a typical Disney princess. Katherine and Mark both shared the ways she's breaking the princess mold and what makes her a great role model for us all. And as you'll see in the clip from the film below, the last thing Princess Merida wants is a Prince Charming.
Brave producer Katherine Sarafian agrees that the studio's latest project is especially exciting because it stars a girl. She asked me, "Who among us wouldn't want to give our daughters or sons a great cinema role model?" And not only is Merida a "powerhouse of a girl" with "fire and gusto and vigor" as Katherine describes her, she's also relatable, as she doesn't come with any special superpowers. "She just has great skills and she practices them," Katherine explains, "and she earned her skills by working hard and practicing and playing archery and playing sword fighting with her dad."
What really makes Merida someone little girls and adult women alike can relate to is that she's not perfect. At one point Merida's mom, Elinor, who's trying desperately to persuade her daughter to conform to her traditional role as a lady, says, "A princess strives for perfection." As women, we're constantly feeling that pressure to meet impossible expectations and aspire to society's ideal of who we should be and what we should be doing. But we rarely hit the mark. Katherine tells me, "I find her very relatable as someone who's coming of age and struggling with that central question of how can I really be seen for who I am in a world where there's an expectation of me that is incongruous to who I am?"
So why is such a relatable female lead so rare? Katherine tells me she's never understood why we haven't seen more strong female characters onscreen. With Brave, the filmmakers weren't trying to produce a story with a leading lady; it was the story, that happened to be about a girl, that got the project made. "If more filmmakers are developing ideas with great females at the center of the story, we should be able to take the world by storm," Katherine says.
The good news is with hits like The Hunger Games that are incredibly popular with both sexes, perhaps Brave is a part of a trend toward more female-driven films. Katherine points out that the box office figures have proven that people want to see girls and women lead stories. She adds, "I'm hoping people are realizing and studios realize that there is an audience, that this is half the population."
I found it interesting that Pixar (a subsidiary of Disney) would have its first female lead in a feature film be a princess, meaning, technically, Merida is a Disney princess. It appears that for a girl to be the lead in an animated movie she has to be princess. But both Katherine and director Mark Andrews insist the princess decision had nothing to do with the classic Disney princess archetype, but rather it was about a more exciting plot. "If you're a teenager and you make a stupid decision, maybe you get grounded," Katherine explains. "If you're royalty, your bad decision can have consequences that could cause a war in your kingdom. It was important that her decisions be tied to something much bigger than herself and her immediate family."
More from Mark and Katherine plus a clip of Princess Merida showing off her archery skills after the jump!
And Mark is quick to say that the similarities between Merida and her crowned counterparts stop at the royal title. "She doesn't do princess-y things," he tells me. Mark describes her as "active and athletic," a dynamic girl in a dynamic point of her life. She uses weapons, rides her horse bareback, and even climbs rocks. "I've never seen a princess climb rocks. Pocahontas ran around in a jungle. Big deal," he jokes.
More than halfway through production of Brave, in 2010, Mark took over directorial duties from Brenda Chapman (who would have been Pixar's first female director). So in order to really understand this fearless teenage heroine and the complicated relationship she has with her mother, he got some insight from the women in his life. And not from his daughter, who he says "doesn't tell me squat." Mark explains, "I went and talked to one of my wife's sisters, who's also a psychologist. She told me about her relationship with her mother when she was a teen, and then she talked about being a mother with two teenage daughters. Then I talked with her daughters." But again, he says the themes are universal. "It's all the same stuff I had with my dad and my dad had with me. We have a universal theme here, between the fears of becoming an adult and losing that childhood, responsibilities, and what does that mean."