Breakup Gift Basket With Il Bastardo Wine, Snacks
What Would You Want in a Breakup Gift Basket?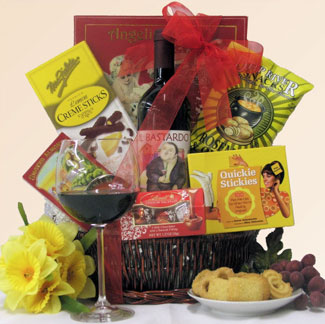 Don't want to show up at a divorce party empty-handed? Behold the breakup gift basket! Yes, someone has actually made this: the Il Bastardo Breakup Wine Gift Basket could be yours or your forlorn friend's for just $55.
The breakup basket comes filled with a bottle of Il Bastardo wine (clever!), lots of pig-out-worthy snacks (questionable), and a book called Quickie Stickies: 100 Pick-Me-Ups for When You're Feeling Unglued.
Though I doubt I'll be buying this particular item, I am totally making a breakup care package next time one of my friends gets dumped. A bottle of booze would be a no-brainer, and I'd also probably throw in a gift certificate for a massage, some guilty pleasure DVDs, and maybe a movie that's neither romantic nor depressing but has a good breakup-related message, like (500) Days of Summer. What would you want in a breakup gift basket? Chocolate? A mix of sad songs? Sex toys? Chime in below, and we'll see if we can do better than this basket.