Brighton Beach Reality Show
Wanted: A Russian-American Snooki For the Next Jersey Shore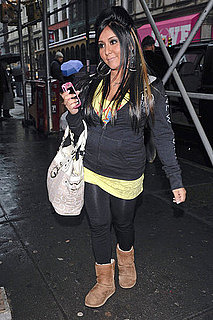 Looks like the call for America's next sociological experiment has been answered! A casting call is out for Brighton Beach, a Jersey Shore-inspired reality show that will showcase vodka-swilling stereotypes of Russian-Americans.
While the show will draw cast members from all over the country, it will be taped in the Brighton Beach section of Brooklyn — the epicenter of Russian immigrants and their descendants in America. Following the sandy footprints of the Jersey Shore, the casting call asks for people who "identify" as Russian-Americans and are "the opposite of camera shy." Here's the rest.
Are you the Russian Snooki or The Situation? Are you a super-outgoing and fun-loving Russian-American that sometimes sneaks kalbaska, pel'meni, and vodka from the fridge? Can people hear the Euro/techno/Russian music blasting from your car before they see you pull up? . . . The cameras will roll as you do what you do best — eat, drink, and PARTY.
The creators of Brighton Beach assured Brooklyn blog Sheepshead Bites the show is no joke; however, they have not yet found a TV home for it. Though they are in talks with networks, an actual deal is contingent upon casting. So if you prefer sausage over ham after a night of drinking, this is your moment. "The cameras will roll as you do!"