Bristol Palin and Levi Johnston Engaged US Weekly Cover
Bristol and Levi Engaged! — Mistake or Made For Each Other?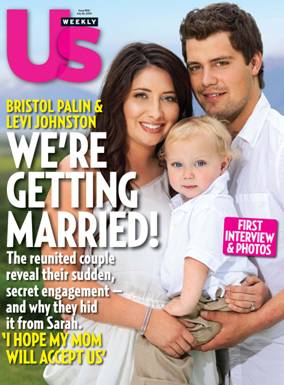 Bristol Palin and Levi Johnston look like one happy family on the cover of the new US Weekly — and they'll soon make it official. After more than a year of public back and forth and family feuding, the teen parents of baby Tripp say it feels right to get married.
While Sarah Palin might have thought something was up when Levi apologized to her last week, the couple told the magazine that she didn't know yet. And Bristol, who will soon be able to give up her abstinence pledge, was worried: "It is intimidating and scary just to think about what her reaction is going to be. Hopefully she will jump on board." I hope they told her before she saw the magazine cover! Since the news is out now, Sarah offered her support, I think, saying: "Bristol at 19 is now a young adult. We obviously want what's best for our children."