Brittney Griner on Sexuality
WNBA's Brittney Griner Hopes to Inspire Others to Be Themselves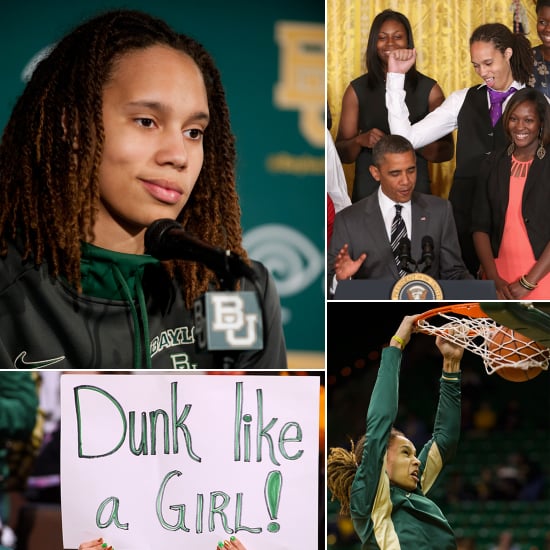 After Brittney Griner was chosen first in this week's WNBA draft, she sat down with Sports Illustrated to talk openly about sports and sexuality. While pro men's sports are still struggling with acceptance, it seems the women's game has tolerance down. Brittney said it really wasn't difficult to go public as a lesbian, since she's always been open about her sexuality. And she hopes being comfortable with herself will inspire others, explaining: "If I can show that I'm out and I'm fine and everything's OK, then hopefully the younger generation will definitely feel the same way."
When asked why she thinks there's a greater level of acceptance of gay female athletes, Brittney said she really couldn't answer that. But she did provide this advice that everyone can use, regardless of their sexuality:
"Being one that's out, it's just being who you are. Again, like I said, just be who you are. Don't worry about what other people are going to say, because they're always going to say something, but, if you're just true to yourself, let that shine through. Don't hide who you really are."
It's hard to ignore the fact that if the NBA's top pick came out as gay, it likely would be a much bigger story. The New York Times spoke with LGBT advocates in the sports world about why gay female athletes are more accepted. The story uncovered another, perhaps unexpected, difference between men's and women's sports. Patrick Burke, the founder of You Can Play, identified two stereotypes: that there are no gay male athletes and that every female athlete is gay. He said when trying to get athletes to talk about tolerance, "We've had tremendous success in getting straight male players to speak to the issue; we're having a tougher time finding straight female athletes speaking on this issue because they've spent their entire careers fighting the perception that they're a lesbian." Maybe everyone involved could use Brittney's advice to not worry so much about what other people think.