Cameron Diaz Tells Maxim She Doesn't Believe in Marriage
Cameron Diaz Says Modern Society Has Outgrown Marriage — Agree?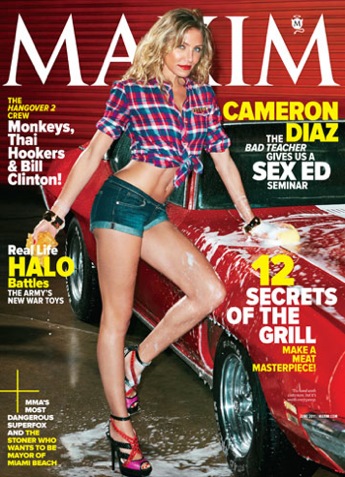 Channeling her latest role in Bad Teacher, Cameron Diaz covers the June issue of Maxim. Inside she offers her version of sex ed, schooling us on her views of relationships and marriage.
The 38-year-old actress, who's currently dating Alex Rodriguez, says men "need women who challenge them and don't let them get away with their sh*t," but women also "need to not be crazy b*tches who blow up when their guys tell them something that scares them." Cameron has already shared in the past that she wouldn't want to be with the same person for a lifetime, and in this latest interview she goes further, saying the commitment of marriage might be on its way out for society as a whole:
"I think we have to make our own rules. I don't think we should live our lives in relationships based off of old traditions that don't suit our world any longer."
Do you agree that the tradition of marriage doesn't fit well with today's world?