Can Bride Wear White Dress to Second Wedding?
Is White Reserved For First-Time Brides?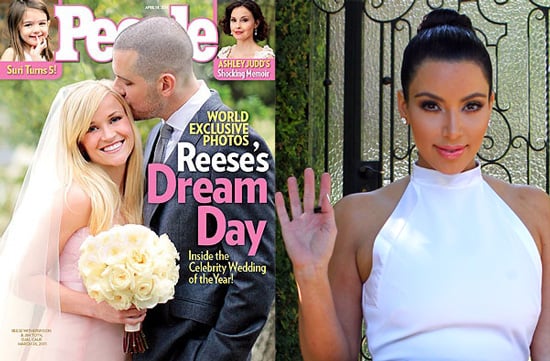 Kim Kardashian's Aug. 20 wedding is billed as the second coming of the royal wedding thanks to the hype and celebrity-filled guest list, but few people seem to remember this will be the second marriage for the reality star. More than 10 years ago, the then 19-year-old LA socialite married music producer Damon Thomas. They stayed married until 2004, and Kim has since opened up about surviving domestic abuse during the relationship.
There's no doubt Kim didn't find happily ever after in her first marriage, but since she's already walked down the aisle, there are reports that Kim's Vera Wang dress won't be completely white, or white at all. She wouldn't be the first celebrity bride to skip white. At her wedding earlier this year, Reese Witherspoon wore a blush Monique Lhuillier.
When white became a popular choice of color for wedding dresses, it was meant to make the bride look pure and virginal. Today, most of us have lost any illusions that a bride wearing white is necessarily a virgin. But should she be a wedding-virgin?