Celebreadymade Art
Word du Jour: Celebreadymade Art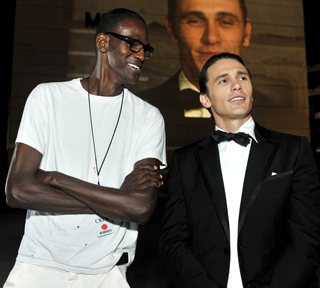 Readymade art takes existing objects and uses them in a new way. Celebreadymade uses celebrities, who because of their instant recognizability are like found objects, to do the same thing.
The trend, or, as I'm sure artists would prefer, "movement," takes Andy Warhol's use of celebrity culture to another level, allowing artists and celebrities to collaborate. Of course, no celebrity is more game than actor, artist, and perpetual student James Franco. In 2008, he and an artist made a film of James reciting random lines from several roles he's played, with a few other lines thrown in, to create something entirely new.
Now celebreadymade art's purpose is up for debate. Is it a smart way to make a statement and call the art world out on its pretensions? Or a shameless ploy for attention?