Chelsea Clinton NBC News
Chelsea Clinton Kicks Off a More Public Life on TV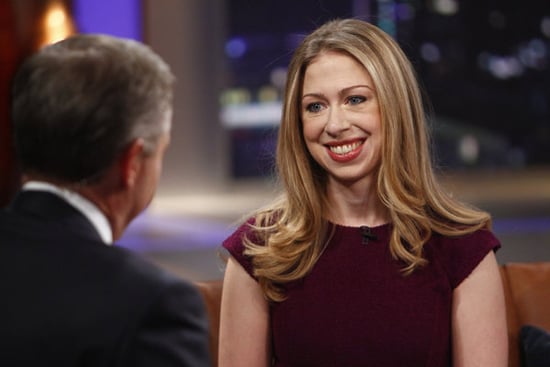 Chelsea Clinton sat down with Brian Williams on his nightly Rock Center show to explain why she's leaving behind her "deliberately private life" for a journalism career. But before she got personal last night, Chelsea reported on former-educator Annette Dove, who has committed her life to helping impoverished children in Pine Bluff, Arkansas with hot food, tutoring, and someone to talk to.
After her inaugural "Making a Difference" report, Chelsea went on to discuss why she's putting herself out there for the first time. She said, "For most of my life, I did deliberately lead a private life and inadvertently led a public life." But after her grandmother, Dorothy Rodham, passed away in early November, she decided to change course. Chelsea explained that her grandmother had a core adage in life: that life is not about what happens to you, but about what you do with what happens to you. Chelsea said her grandmother had recently been "challenging me to do more with my life, to lead more of a purposefully public life. That being Chelsea Clinton had happened to me and that I had a responsibility to do something with that asset and opportunity."
See Chelsea's full segment below and tell us whether you're looking forward to more from her.
Visit msnbc.com for breaking news, world news, and news about the economy
Photo courtesy of NBC