Chris Rock Grabs Gabourey Sidibe's Butt
No Middle Ground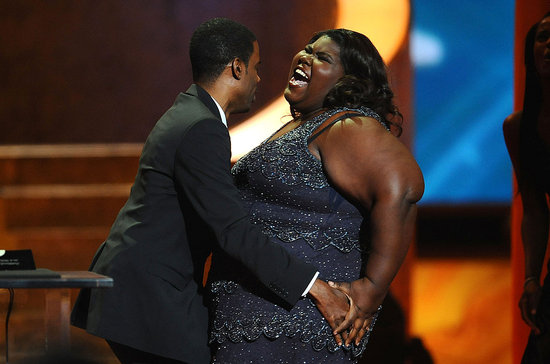 While accepting her best actress award for her breakout role in Precious at the NAACP Awards, Gabourey Sidibe was hit with some weighty remarks from her director and, later, some unsolicited attention from Chris Rock. Precious director Lee Daniels took the podium to speak about his film, saying, "No one in Hollywood told me they wanted to see a movie about a 350 pound black girl who had HIV." Immediately realizing his offense, he back-peddled, "She's not 350 pounds, Gabby . . . but the book says . . . before you were hired." Gabourey looked on mortified, while Daniels struggled to dig himself out of a sinking hole. The remark puts Gabby's weight in the spotlight, when it's obviously her performance that deserves attention.
Still, what's equally disturbing is US Weekly's account of Chris Rock's on-stage butt grab: "[When] Sidibe won the night's best actress award . . . she laughed as presenter Chris Rock squeezed her bottom." OK? Now I'm confused. To see why,
.
While Lee's commentary puts Gabby's weight at the forefront, making it an object of scrutiny and criticism, Rock's move seems to try to make it alright. But the bottom grab is a cheap shot in my book. Maybe playful, but still uncouth. The grab signals some kind of lowbrow attempt to ease over Daniels's misstep. If Chris Rock grabs your booty, are you attractive? Normal? Pretty? Funny? I don't think I'm overly sensitive, but this rubbed me the wrong way. There's something demeaning in the butt grab that seems to go hand in hand with male approval. At the end of the day, I'm going to have to chalk it up to some insecurity on both Daniels's and Rock's part — and thankfully, Sidibe has confidence and a sense of humor even if these men lack good sense.