Christina Hendricks Pictures in Esquire
Christina Hendricks's Joan Holloway-Like Advice For Men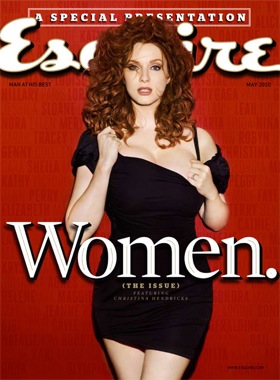 Voted the sexiest woman alive by Esquire readers, Christina Hendricks is its May cover girl. In an interview posted online, she dishes about what's hot and what's not in a man, and a few things sound a lot more like her ultratraditional Mad Men character Joan Holloway than I'd expect.
On what drink to order: Order a scotch. "It's the most impressive drink order. It's classic. It's sexy. Such a rich color. The glass, the smell. It's not watered down with fruit juice. It's Scotch. And you ordered it."
On being a gentleman: "Stand up, open the door, and offer the jacket."
On being a man: Don't wear long, below-the-knee shorts ("No woman likes those.") or tank tops ("You're walking around in your underwear."). And delete your Facebook account ("No man should be on Facebook.")!
"Panties," say it: "It's sexy. It's girlie. It's naughty. Say it more."