Cory Booker Facts
11 Reasons Cory Booker Would Be America's Most Eligible Senator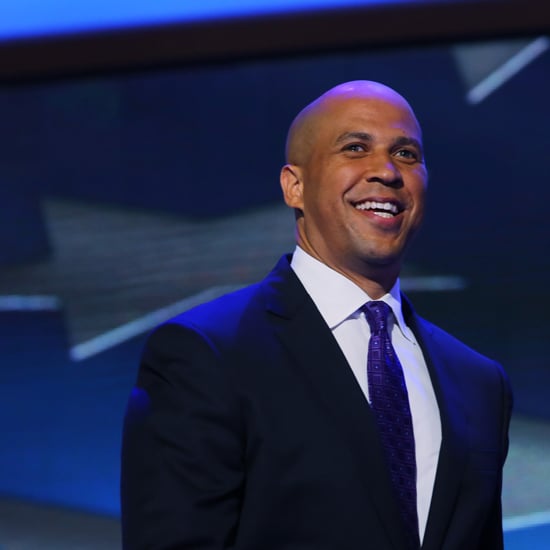 This morning, Mayor Cory Booker of Newark, NJ, announced that he'll be finishing his second term instead of running for governor — and hinted at a possible Senate run for 2014. Politicians don't typically top "most eligible bachelor" lists, but Cory has the looks, personality, and relationship status for it. In the wake of Hurricane Sandy, he truly seemed like Superman when he invited Newark residents to his house via Twitter, and he's known for his Good Samaritan ways. For that reason and more, see why Cory Booker may just be the country's most eligible potential Senator!
He's got the brains. If "well-educated" is on your checklist, Booker has it covered in spades. On top of a Stanford degree, Booker also studied at Oxford as a Rhodes scholar and earned his law degree from Yale Law School.
And the brawn. Booker's definitely got the jock thing going for him. The athletic 6'3" politician played football for Stanford as a tight end, and he still focuses on fitness with regular exercise.
He's loyal. Every relationship requires real commitment, and Booker seems to have zero commitment issues. Despite big job offers from the Obama administration and the chance to challenge Governor Chris Christie, he's fully dedicated himself to improving the city of Newark.
He's a lifesaver, literally. Holding out for a hero? Booker's your guy. Not only did he welcome Hurricane Sandy victims into his home, but he also rescued a woman from a house fire. No big deal.
He's got friends in high places. Not only is Oprah Winfrey an open supporter, but Mark Zuckerberg donated $100 million of his personal fortune to the Newark school system.
He's looking for companionship. During an interview with Oprah, Booker said that he's looking for "a partner," adding, "Honestly, just lying next to somebody is like a gift from God. Forget the sex — just having someone spend the night is a great thing."
He's got a sense of humor. It's great to find a guy who can laugh at himself, and last Spring, Booker teamed up with Chris Christie for a playful video that poked fun at his heroic reputation. Talk about a win-win.
Even his setbacks have a positive spin. The documentary Street Fight chronicled Booker's failed first run for mayor, but the movie itself was a critical success — and nominated for an Academy Award.
He cares about the environment. Booker has been a vegetarian ever since his Oxford days, both for environmental and health reasons.
He's health-conscious. There were no scandalous, hard-partying days in Booker's past. The politician doesn't drink or smoke — he doesn't want to be distracted from his purpose.
He's inspirational, even on Twitter. If you're looking for a guy who's willing to talk about life and love and everything in between, Booker may just be the one. He regularly shares motivational tweets with encouraging messages, like "Dream big & have huge ambition, but never forget life is lived in small moments and sustained by simple acts of love."