Cyber Monday Gift Ideas
#27DaysLeft: Join Our Gift Guide Twitter Party Today!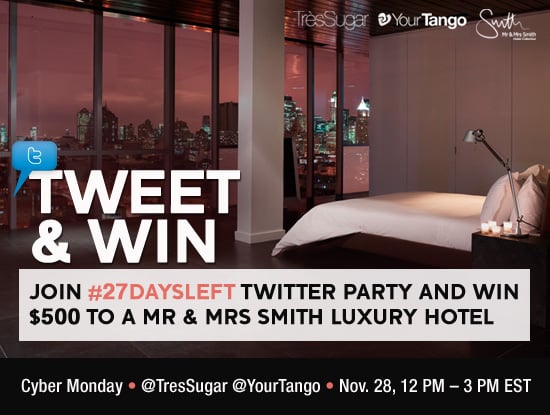 Ready or not, the holidays are here! We're teaming up with YourTango for three hours of gift-buying advice for everyone on your list — naughty or nice!
Join us today, on Cyber Monday, for our gift guide Twitter party. We'll offer advice and product suggestions for your significant other, siblings, girlfriends, and more. Plus, we're giving away fantastic prizes from boutique hotel experts Mr & Mrs Smith every hour, ending with a grand prize $500 gift card that can be used towards a stay at any of the 850 worldwide properties on www.MrandMrsSmith.com.
Here are the party details:
When: Today! November 28, 12-3 p.m. EST (9 a.m.-12 p.m. PST)
Where: Twitter.com
Who: You must follow @TresSugar and @YourTango to join the party
How: When the party starts, search for #27DaysLeft in the Twitter search bar, and you're in (make sure you select "All Tweets" to see everyone's tweets)! To ask a question or post a response, include #27DaysLeft in each of your tweets, or we won't see them.
Why: There are only 27 days left before Christmas! We'll help you figure out what gifts to buy before time runs out.
Plus, we'll be giving away fun prizes from Mr & Mrs Smith throughout the party including their award-wining hotel guidebooks, with a final grand prize of a $500 Mr & Mrs Smith Hotel Voucher, to randomly selected party participants! To be eligible to win any of these prizes, you must follow both Twitter accounts listed above and tweet at least once using the hashtag #27DaysLeft. We'll be contacting the randomly selected winners post-party via Twitter Direct Message.
See you later! And don't forget to follow us on Twitter!
See Official Rules.