Cynthia Nixon Advocate Interview
Miranda's Rights: Cynthia Nixon Talks Love, SATC, and Rumors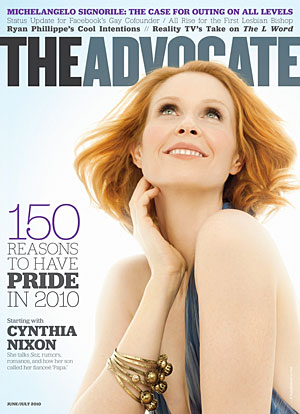 In an interview with The Advocate, Cynthia Nixon discusses coming out about her sexuality, battling breast cancer, her six-year relationship with partner Christine Marinoni, and the upcoming Sex and the City 2 movie.
On her partner
"She's basically a short man with boobs. A lot of what I love about her is her butchness. I'm not saying I fell in love with her in a sexually neutral way. I love her sexuality — it's a big part of what I love about her — but I feel like it was her. It wasn't something in me that was waiting to come out."
On her SATC character Miranda
"With the first flurry of articles when I came out, there were kind of crazy quotes from people, just the average person on the street. One was like, 'I don't understand. Miranda's not the bisexual one; Samantha is the bisexual one.' I don't know what to tell you, that's a crazy comment. And they all said, 'Oh, Miranda kissed a girl, and she didn't like it!'"
For more tidbits from Cynthia,
.
On sexual identity
"If anybody, prior to my meeting and falling in love with Christine, had asked me about what I think about sexuality, I would have said I think we're all bisexual. But I had that point of view without ever having felt attracted to a woman. I had never met a woman I was attracted to [before Christine]. And maybe if I'd met her when I was 20, I would have fallen in love and only dated women. But maybe if I'd met her at 20, I wouldn't have responded at all. Who knows?"
On battling rumors
"They have so many negative things [written] about all of us not talking, so we let each other know, 'Hey, did you know we're not speaking? I don't know if you knew this, but I can't talk to you today — we're not speaking.'"