Dakota Fanning Marc Jacobs Ad
Dakota Fanning's Perfume Ad Banned For Sexualizing Children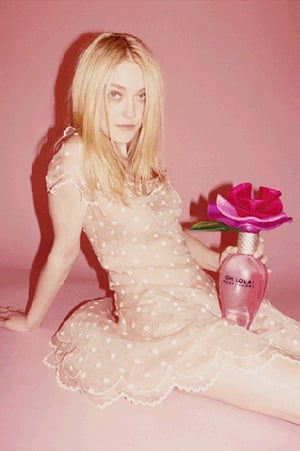 Dakota Fanning's Oh, Lola! perfume ad has been banned in the UK for "sexualizing children." The Marc Jacobs perfume ad features 17-year-old Dakota holding an oversize bottle of the fragrance in her lap, and even though she's not dressed provocatively or doing anything sexual, the British Advertising Standards Authority believes the ad is portraying a minor as a sex object, saying:
"We noted that the model was holding up the perfume bottle which rested in her lap between her legs and we considered that its position was sexually provocative. We understood the model was 17 years old but we considered she looked under the age of 16. We considered that the length of her dress, her leg and position of the perfume bottle drew attention to her sexuality. Because of that, along with her appearance, we considered the ad could be seen to sexualise a child."
While I think there are a ton of much more overtly sexual ads out there, I do think the purpose of this perfume ad is to be provocative. Even Marc Jacobs describes Oh, Lola! as "sensual" and calls Dakota a "contemporary Lolita, seductive yet sweet." Maybe I'm just desensitized by worse examples like Toddlers & Tiaras, but would you really consider this ad featuring a 17-year-old the sexualization of a child?