Date Ideas Other Than Dinner
5 Romantic Dates Beyond Dinner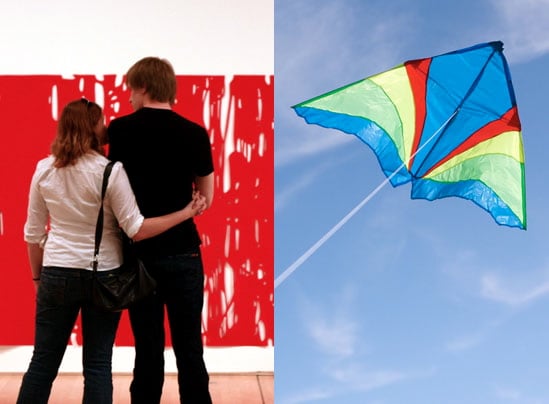 Your menu of date options should include much more than the expected nice dinner out, whether you're single, in a long-term relationship, or married. When you're just getting to know someone, an active date means less opportunity for awkward silences and more chances to learn something about the other person beyond the predictable life details that always come up as you stare across the table at each other. And once you've been together for a while, going out to a restaurant can become a regular routine, losing its romantic appeal. Find five couples outings that will add some flavor to your dating life below.
See a Movie in the Park
Why it's better than dinner: Ditch the confinements of a restaurant, and find a local park where you can kick off your shoes and enjoy the show on its regular movie night. And unlike in a classic theater, you'll be free to talk — or make out!
When to do it: This is an ideal fourth or fifth date. You should be comfortable enough to cuddle close on a cozy blanket and happy for the opportunity to do so, too.
Visit a Museum Exhibit
Why it's better than dinner: A restaurant choice can only tell you so much about a man. Find out his taste in art and appetite for culture by checking out a new exhibit together.
When to do it: Head to the museum on your second date. While you're still getting to know someone, you don't want to make too much of a time commitment. Plus, you should get something out of it no matter what.
Attend a Baseball Game
Why it's better than dinner: America's favorite pastime gives you a chance for flirty rivalries and plenty to banter about during the game. Plus, you can eat hot dogs and drink beer!
When to do it: Save this date until you have five or more under your belt. Nine innings can take awhile, so you want to make sure you have some team chemistry.
Take a Cooking Class
Why it's better than dinner: Dining at a restaurant seems so passive compared to the excitement and effort that goes into learning to prepare a meal from scratch. It's a bonding experience that will keep on giving every time you use the recipe again.
When to do it: After you've been together for a while, this is a perfect way find new dishes you can cook for each other or together.
Fly a Kite
Why it's better than dinner: Who doesn't want to enjoy some fresh air and feel like a kid again? And when you discover that flying a kite is harder than you thought it was, lots of playful laughter will ensue.
When to do it: After meeting a few times for drinks or dinner, a daytime date always seems to take a relationship to the next level. Head to the beach or park with your kite and date in tow after a couple months of casually dating.
Source: Flickr User vironevaeh and shaynekaye