David Petraeus Affair Details
7 Bizarre Details From the David Petraeus Affair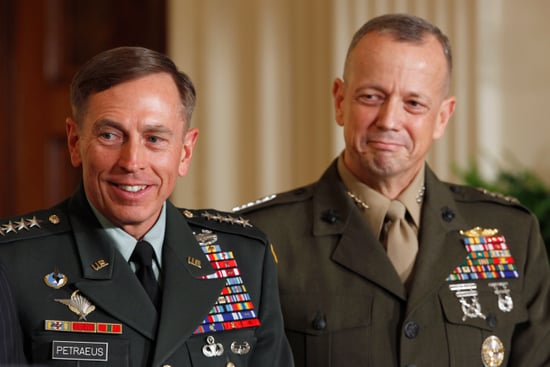 Illicit affairs at the CIA, an obsessive agent, and conspiracy theories. No, I'm not talking about Homeland. The affair that took down CIA director and retired general David Petraeus is becoming stranger than Showtime's fiction. Since Petraeus resigned on Friday citing his affair, more details have trickled out and the cast of characters has grown. There's Gen. Petraeus and his biographer-mistress Paula Broadwell. The FBI stumbled upon the affair while investigating harassing emails Broadwell reportedly sent Florida socialite and married military volunteer Jill Kelley, whom Broadwell considered a rival for Petraeus's attention. And today, news broke that the FBI has uncovered thousands of pages of emails that top NATO commander Gen. John Allen sent Jill Kelley.
Now that we've covered the basics, let's look at some of the most bizarre details to come out of this story so far.
The mistress's dad has a conspiracy theory. "This is about something else entirely, and the truth will come out" is what the father of alleged Petraeus mistress Paula Broadwell told the New York Daily News. He said, "There is a lot more that is going to come out. . . . You wait and see. There's a lot more here than meets the eye." Intriguing.
Gen. Allen sent a whole bunch of emails to Jill Kelley. The FBI reportedly uncovered a staggering 20,000 to 30,000 pages of emails between Gen. Allen and Jill Kelley, the target of Paula Broadwell's threatening emails. I would bet that when Jill Kelley reported the harassing emails from an anonymous sender (who turned out to be Broadwell), she did not anticipate that the FBI would then examine all of her emails as a matter of routine. There is no word yet about the nature of the emails, except that they were "inappropriate" and "flirtatious."
The lovers used terrorist communication tactics. According to reports, Petraeus and and his mistress, Broadwell, used a form of communication popular with terrorists (and teens apparently). Instead of sending conventional emails, they left notes in a folder in an online "dropbox" account they shared.

Shirtless

photos are involved. The FBI agent whom Jill Kelley contacted originally about the threatening emails was removed from the case after he became "obsessed" with it and sent Jill Kelley shirtless photos of himself.
Adultery is a crime in the military. While Gen. Petraeus is retired, Gen. Allen is still active and up for a promotion. In fact, he was in DC for his confirmation hearing this week to become the commander of American forces in Europe and the Supreme Allied Commander of NATO. That nomination has been put on hold, and Gen. Allen is now under investigation by the Department of Defense for the emails he sent Jill Kelley. A source says the nature of the emails warranted providing them to the DOD, and if Gen. Allen had an affair with Jill Kelley, he could have violated military law.
You can't get more high-profile than Petraeus and Allen. Both men are considered among the best military leaders of this era, and Gen. Allen even succeeded Gen. Petraeus as Commander of US Forces in Afghanistan when Petraeus became CIA director. Everyone who follows military affairs is said to be shocked that they are involved in such an illicit situation.
The FBI paid Broadwell's house a visit. Last night, the FBI searched Paula Broadwell's home in Charlotte, NC. They left carrying packed boxes, but it's not clear what they were looking for.