Democrat Julianne Moore to Play Sarah Palin in HBO's Game Change
Julianne Moore Is the Latest Liberal to Play Palin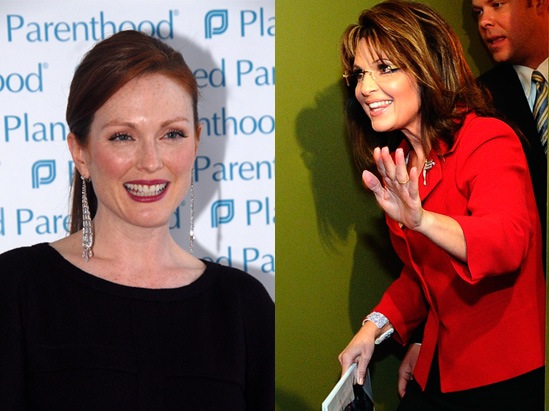 I guess Tina Fey turned them down! Julianne Moore will play Sarah Palin in the upcoming HBO film Game Change. And just like Fey, whose satirical SNL portrayal betrayed opposition to Palin, Moore has a political persuasion that differs from Mama Grizzly. While I doubt it will impact Moore's performance, here are three major issues on which they publicly disagree.
Abortion: Palin's personal life is considered by some an embodiment of the pro-life principles; she decided to have her baby Trig, who has Down syndrome, and she puts her daughter out there as an abstinence advocate, no matter the irony. Moore, on the other hand, is not just a pro-choice citizen but also an activist for reproductive rights. She's long been a vocal supporter of Planned Parenthood and urged Americans to "let it be known that we have a pro-choice majority in this country."
Political Party: Moore has donated to Democrats like John Kerry and Barack Obama, while Palin ran in the number two spot on the Republican ticket in 2008.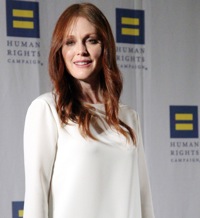 Same-Sex Marriage: LGBT straight ally Moore has graced the cover of the Human Rights Campaign Equality magazine, starred as a lesbian in The Kids Are All Right, and wrote a children's book that features a family with two moms. Although the former Alaska governor has previously opposed gay marriage and benefits for same-sex couples, this may be an issue where Palin and Moore can find some common ground. Palin recently retweeted a tweet criticizing Republicans for supporting don't ask, don't tell. Not quite a clear 180, but a suggestion that there's room for agreement.