Democratic National Convention 2012 Schedule
Your Guide to the Democratic National Convention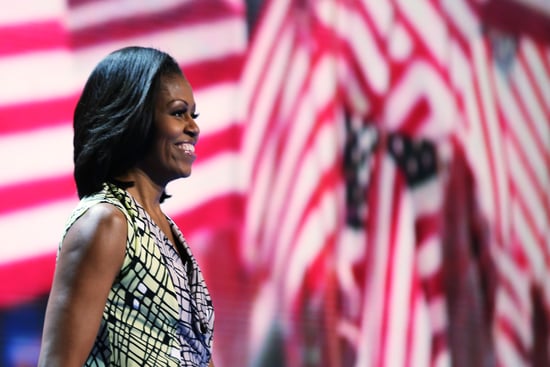 After a Labor Day weekend to decompress from the RNC in Tampa, we're on the ground in Charlotte, NC, for the Democratic National Convention! For the next few days we'll be surrounded by delegates chanting "four more years!" for President Obama, and you can expect us to bring you reactions to the major speeches and details about the issues that could impact your lives. We also have various parties on our radar throughout the week, including an MTV Rock the Vote event, Planned Parenthood's Sex, Politics, and Cocktails party, and a Campaign and Champagne Town Hall put on by EMILY's List, a group dedicated to electing pro-choice Democratic women to office.
This election, issues that impact women specifically, like birth control, abortion rights, and jobs, are at the forefront, and we represent one of the fastest growing voting demographics. So if you're following along at home, here's a look at the main events you can watch in prime time. For an on-the-ground look be sure to check back here and follow TrèsSugar on Instagram and TrèsSugar on Twitter. Let the political party begin!
Tuesday
Michelle Obama will kick things off on Tuesday evening, addressing the convention, and the primetime TV audience, at 10:30 p.m. ET. President Jimmy Carter will also make an appearance in a video, and San Antonia mayor Julian Castro will deliver the keynote address. Earlier in the day the Democratic Women's Caucus and LGBT Caucus will gather.
Wednesday
On day two, viewers will be treated to a political icon, as well as a rising a progressive star looking to introduce herself to a broader American publican. First the newcomer: Massachusetts Senate candidate Elizabeth Warren is a Harvard Law professor and consumer advocate currently running against Sen. Scott Brown, of vintage Cosmopolitan centerfold fame. She's currently trailing in the tight race, so Democrats surely hope her speech will give her a bump.
As for the political icon, that would be President Bill Clinton, whose record and ability to connect with everyday Americans help him make the case for the Democratic party better than anyone. In 2008, Hillary Clinton's DNC speech was definitely a highlight, and I don't doubt her husband will fire up the delegates this year in Charlotte, too.
Thursday
On Thursday, the festivities will move from the Time Warner Cable Arena to the Bank of America Stadium, where President Obama and Vice President Biden will accept the Democratic nominations for president and vice president. Among the other speakers set to address the stadium that night is Eva Longoria, one of President Obama's national campaign cochairs.