Diane von Furstenberg Designed Wrap Dress For One-Night Stands
DVF on One-Night Stands, Kate Middleton, and Plastic Surgery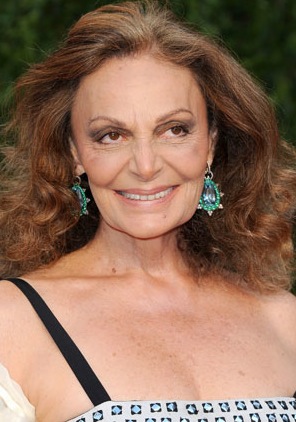 In her interview with the Telegraph, 64-year-old Diane von Furstenberg explains the motivation for her iconic wrap dress design, shares her recommendation for Kate Middleton's wedding gown designer, and opens up about her thoughts on plastic surgery.
On her quote from the '80s about designing the wrap dress without zippers for quietly leaving a sleeping man: "Haven't you ever tried to creep out of the room unnoticed the following morning? I've done that many times."
On Kate Middleton: "I think she should go for Alexander McQueen. But you know what? She reminds me more and more of Diana. Everything about her. I think she's there to avenge Diana's memory — that's clearly what William wants. Giving Kate his mother's ring was a great gesture, and I think that theirs will be a happy version of his parents' marriage. But he absolutely chose a woman who was like his mother — that was deliberate."
On utilizing her sexuality in the workplace: "I had good legs and I loved showing them off. Yes, I used the aspects of being a woman to my advantage, but I worked for myself, not a big corporation, so I was lucky to have the freedom to behave however I liked."
On plastic surgery: "Sometimes I think that we've regressed . . . All these women with fake breasts and cosmetic surgery — all that just objectifies us again . . . But I think the pendulum will swing back the other way. The whole point about beauty is its imperfection."