Disney princess art [1] is kind of an obsession of ours, and this new batch of reimagined ladies has a very cool pop culture twist. Artist Sam Tsui [2] created these Disney princesses as Game of Thrones [3] characters — and they are totally spot-on. Click through to see these artistic versions of the animated royalty!
Illustrations by Sam Tsui [4]
Ariel as Melisandre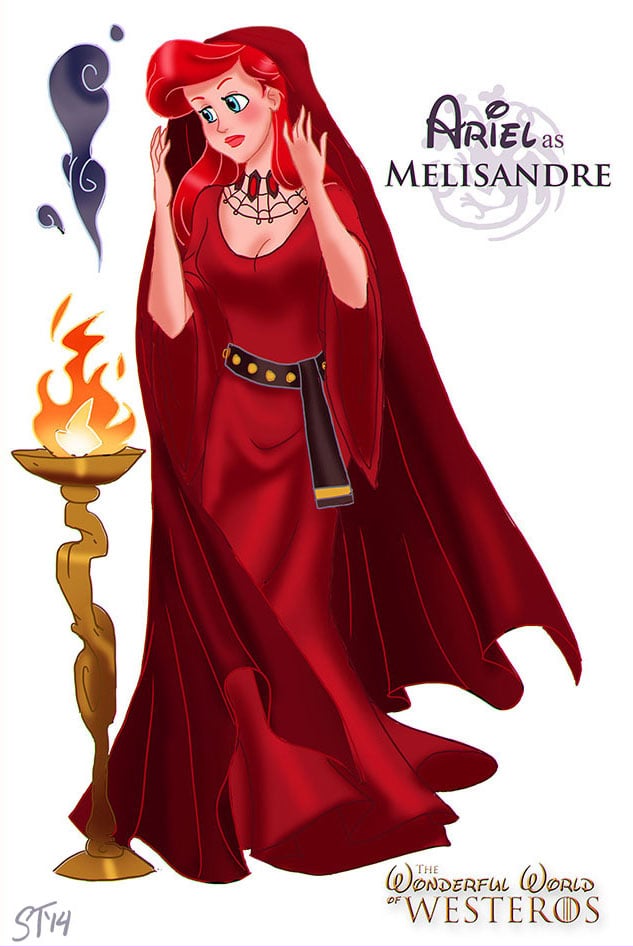 From the artist: "The iconic red hair made this pairing a no-brainer. Personality-wise, the sweet, naive Ariel is pretty much at the opposite end of the spectrum from Stannis' ruthless, ambitious, fervent, and shadow-baby-birthing red priestess."
Illustration by Sam Tsui [5]
Aurora (Sleeping Beauty) as Cersei Lannister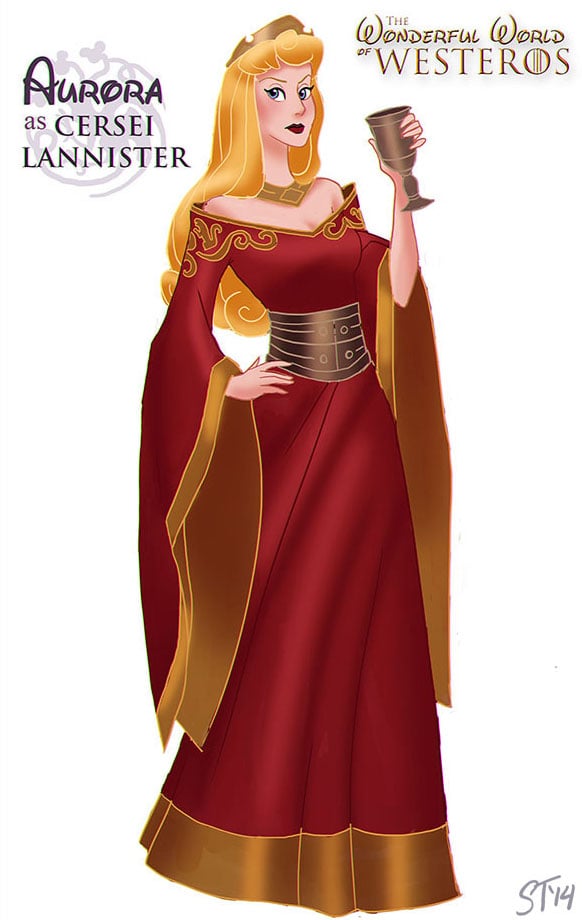 From the artist: "Decided to dress Aurora up as the scheming, incestuous Lannister lady that everyone loves to hate. While the choice was mainly aesthetic (Aurora being the only Disney princess with Cersei's iconic long, golden locks) I figure all the wine Cersei seems to be drinking probably makes her a little sleepy at times . . ."
Illustration by Sam Tsui [6]
Belle as Margaery Tyrell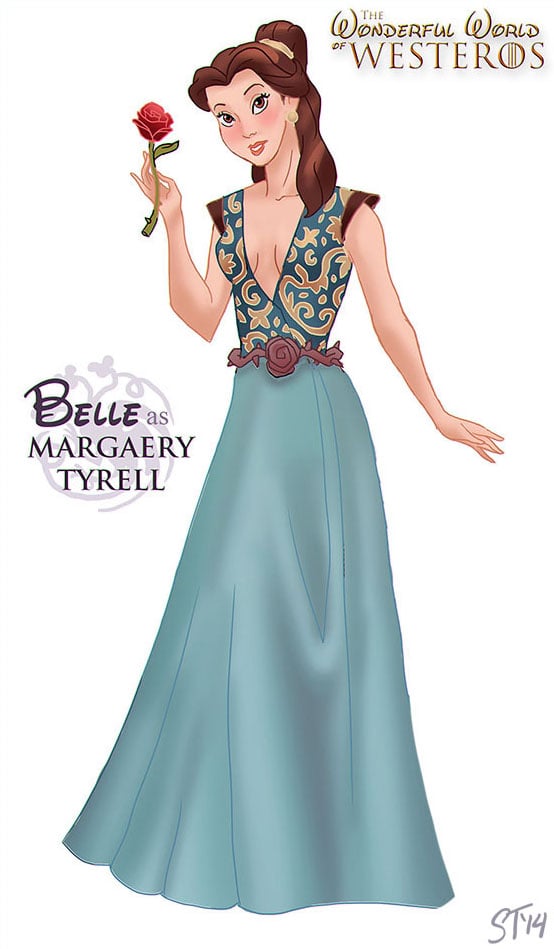 From the artist: "Besides the fact that both Westeros and the world of Disney Princesses seem to be pretty scant on brunettes, the rose imagery at the heart of Beauty and the Beast made this match-up (with the Tyrell house sigil being, of course, a flower) pretty easy."
Illustration by Sam Tsui [7]
Cinderella as Catelyn Stark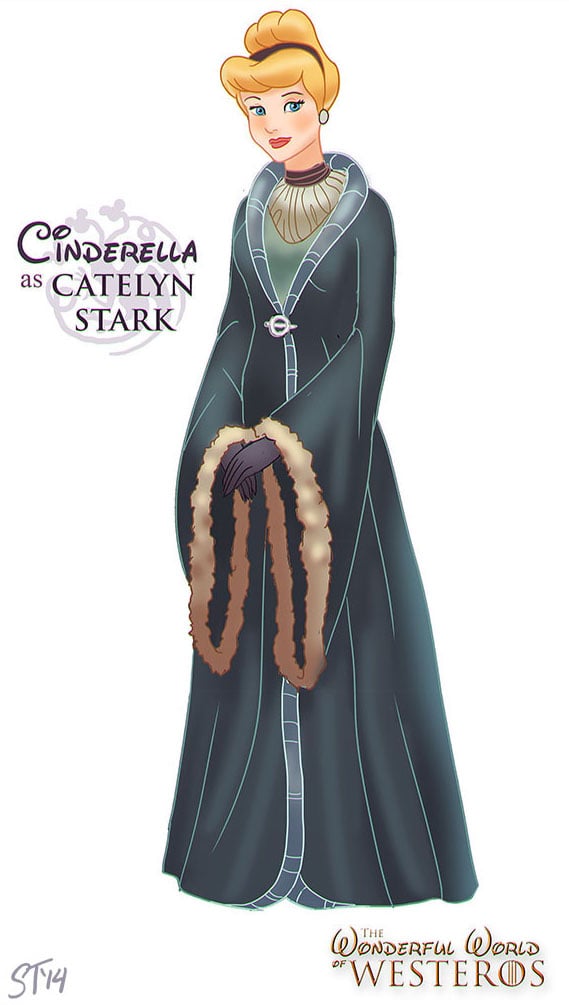 From the artist: "Both Catelyn Stark and Cinderella know what it's like to have weirdo sisters, and Catelyn should have perhaps taken a cue from Cinderella and excused herself a certain wedding [8] reception before the clock struck midnight . . ."
Illustration by Sam Tsui [9]
Elsa as Daenerys Targaryen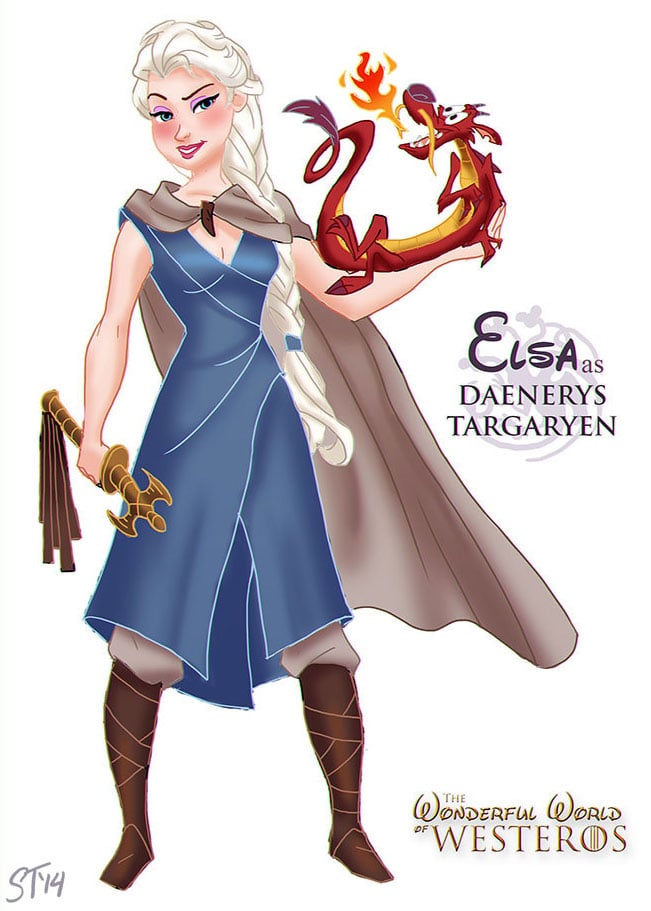 From the artist: "Both Elsa from Frozen and Daenerys spend some time learning what it means to be a queen — although one has mystical ice-related abilities and the other is immune to fire and gave birth to three baby dragons, the platinum hair and their shared journey from meek and repressed little girls to badass queens made this choice a no-brainer."
Illustration by Sam Tsui [10]
Jasmine as Ellaria Sand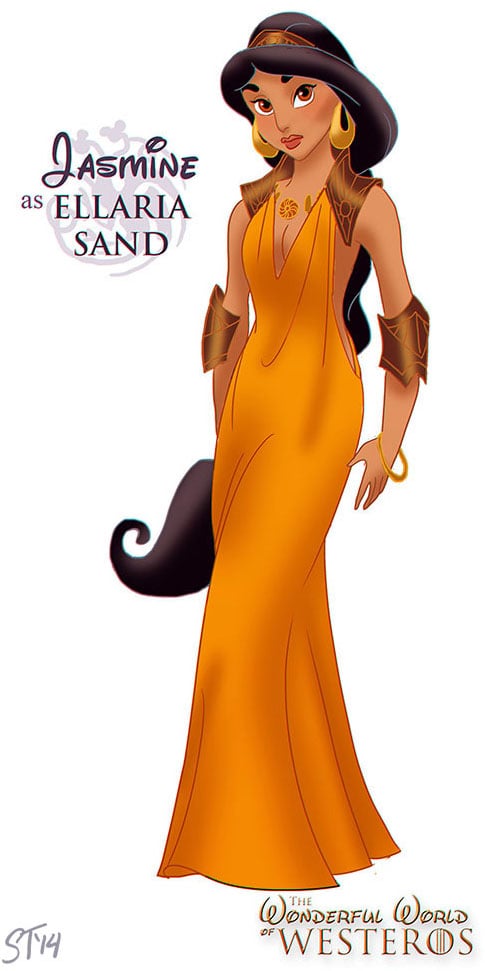 From the artist: "Those watching the HBO show [meet] Ellaria Sand [this season] . . . it made too much sense to cast Jasmine as a lady of Dorne, the sandy, vaguely Arabic/moorish kingdom in the south of Westeros."
Illustration by Sam Tsui [11]
Merida as Ygritte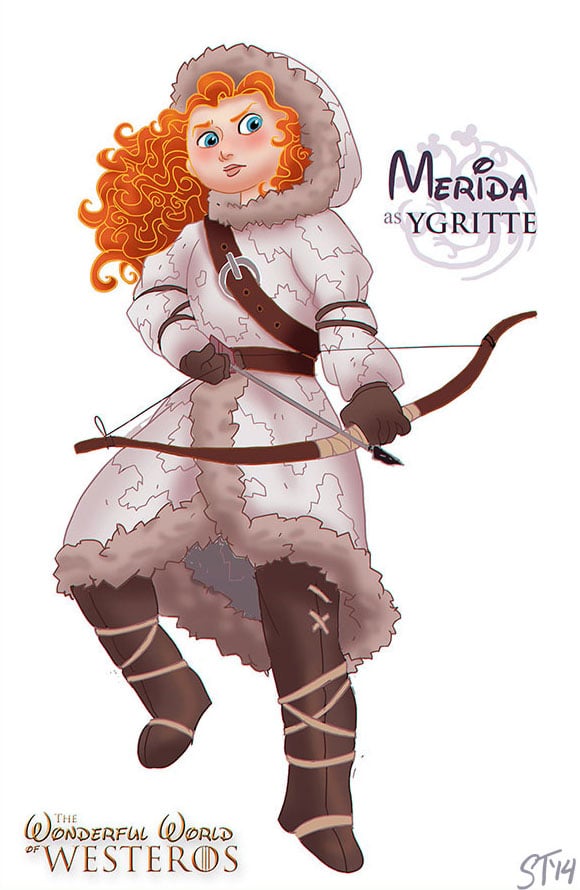 From the artist: "Both Merida and Ygritte are instantly recognizable for their blazing red hair (it's said that Ygritte is 'kissed by fire') and both certainly know how to handle a bow and arrow."
Illustration by Sam Tsui [12]
Mulan as Brienne of Tarth
From the artist: "I mean, come on — both Mulan and Brienne know what it's like to be warrior women in a man's world."
Illustration by Sam Tsui [13]
Rapunzel as Sansa Stark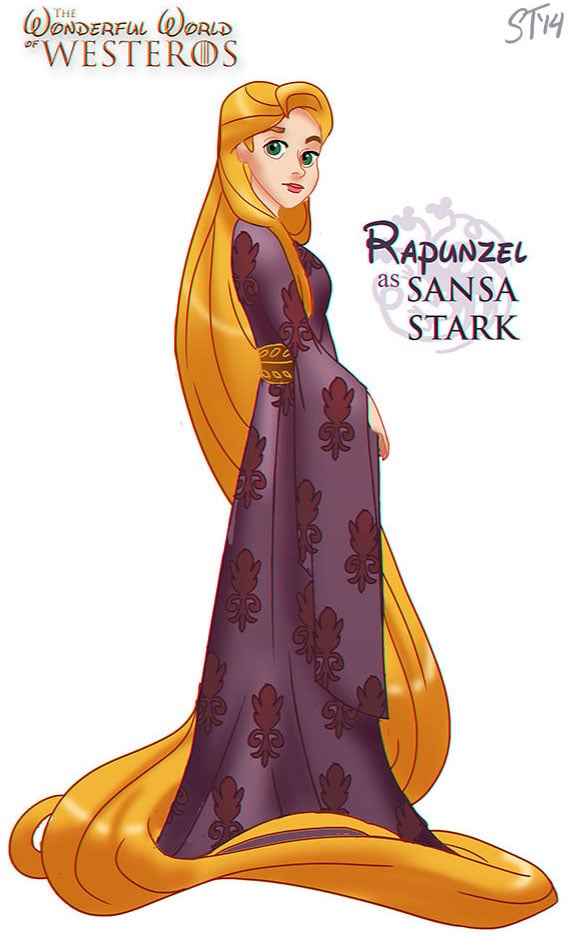 From the artist: "Sansa gets a lot of hate, especially from book fans, but let's face it, she's had a tough life and spends most of the series captive or locked up in one tower or another. That's, of course, why I picked Rapunzel, who knows a thing or two about being locked in a tower, to portray her."
Illustration by Sam Tsui [14]
Snow White as Shae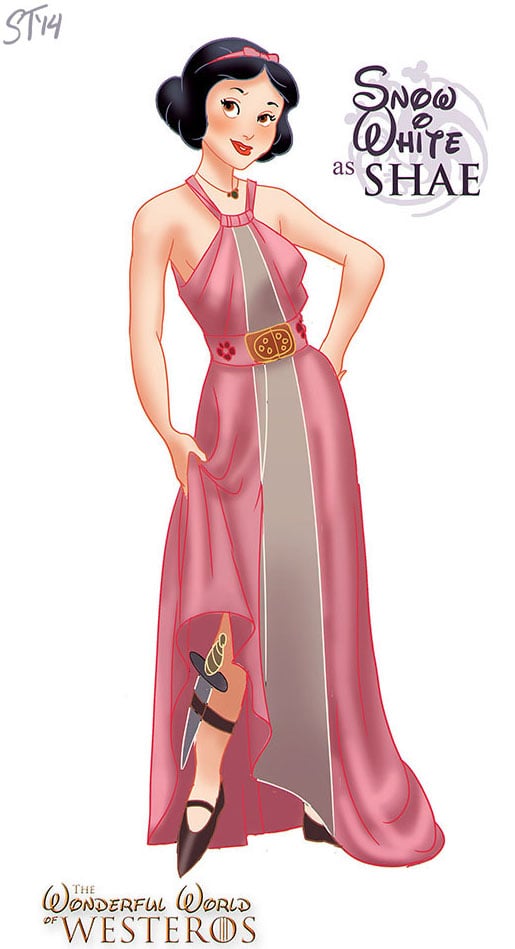 From the artist: "I picked Snow White to represent Shae for one simple reason — they both really seem to like the company of dwarves."
Illustration by Sam Tsui [15]
Tiana as Meera Reed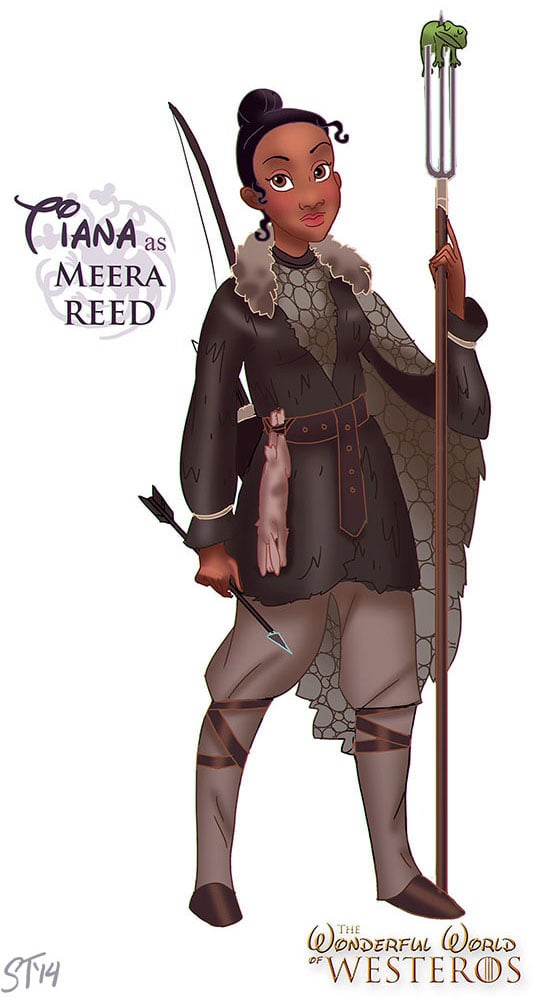 From the artist: "This one may not be as obvious to non-book readers (in fact some of my show-watching friends I showed this series of illustrations were like 'who the heck is Meera Reed?'), but Meera is of course the spunky girl helping Bran and crew reach the three-eyed raven north of the wall — The Reeds are the rulers of the Cranogmen, who live in the swamps and marshes and are sometimes called 'frog-eaters' — so I figured this Tiana, a bayou beauty herself, would be a perfect fit!"
Illustration by Sam Tsui [16]
BONUS: Lilo as Arya Stark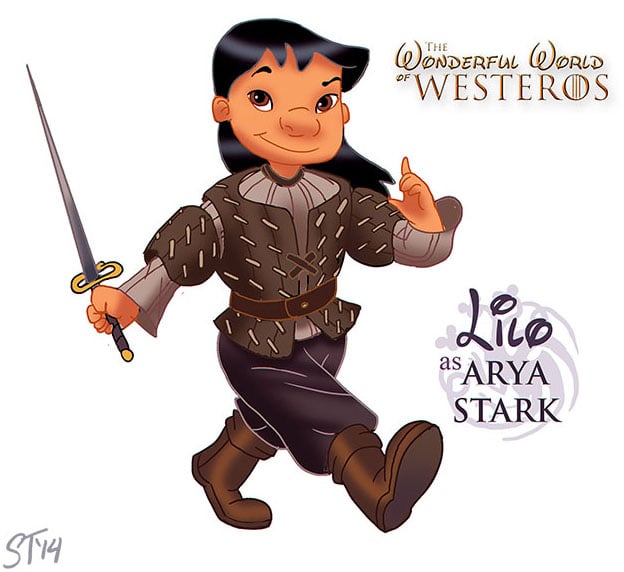 From the artist: "I mainly picked Lilo to dress up as Arya because she's one of the only Disney protagonists who's just a little girl (I mean in the books Arya's only like nine!!). It's been a while since I saw Lilo and Stitch, but if I recall, Lilo was kind of spunky, if not as morbid or bloodthirsty as everyone's favorite cross-dressing Stark."
Illustration by Sam Tsui [17]