Divorce Insurance
Divorce Insurance For the Unhappily Wed
Between divorce parties and a whole new genre of chick lit dedicated to life after marriage, permanent separation seems like a new life phase. But divorce is expensive, so there's now divorce insurance for those who think negatively.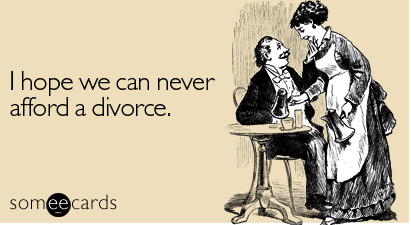 Divorce insurance is a hard idea to swallow, but no less cynical than a prenup; however, the return on investment at the premiere — and only — carrier WedLock hardly seems worth it. Certainly not worth staging a divorce for!
It costs about $16 for every $1,250 of coverage. So if you were to buy 10 units for 10 years ($19,188), you'd get $27,500 upon divorcing. That's $8,312, not much of gain. I'd rather save the amount in a high-interest savings. You'd make less (though not terribly much), but would have the money whether you divorce or not.