Do America's Problems Start at the Jersey Shore?
Do America's Problems Start at the Jersey Shore?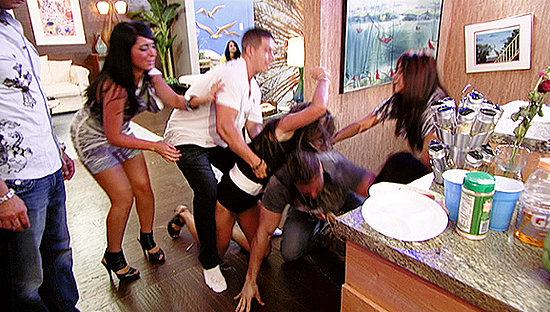 "One time we were in a bar and a guy walked by and said, 'You are everything that's wrong with this country today,'" explained Jersey Shore's Vinny Guadagnino on Ellen today. "I was taken back by that. There's the economy, poverty, equal rights — and Jersey Shore is the worst thing that's wrong?"
Despite Vinny's defense worthy of a politician, reality TV might come with real consequences. Yesterday we learned that the teenage brain processes information differently, making it potentially more susceptible to influence. So while adults see the show as a hypnotic brain vacation, kids might actually model the GTL routine.
Despite brain science, I hold out hope today's youth won't turn into Snooki copycats. If anything, the real threat is not that we will model their behavior, but that as we escape into their freakish circus, we'll forget about the economy, poverty, and equal rights.
Photo courtesy of MTV