Do You Worry About the Stigma of Seeing a Therapist?
Do You Worry About the Stigma Attached to Seeing a Therapist?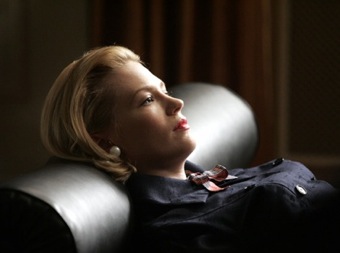 Mad Men's Betty Draper Francis clearly needs someone to talk to. But on last night's episode, the 1960s housewife resisted going to a therapist. It's not that the mother of three on her second marriage doesn't value the help of a trained professional. Happy to have someone, anyone, to listen to her, she'll gladly share her problems with her daughter's therapist. But when that child psychologist nudges Betty toward seeing an adult professional, she puts up a wall of denial, making it clear that it's one thing to talk to a professional about your 10-year-old's problems and a very different thing to admit you need help yourself.
Perhaps Betty's previous experience seeing a psychologist is to blame. Dr. Wayne was happy to talk man-to-man with Don, telling him that Betty had the emotional maturity of a child. In the 1960s, it became more and more popular to work with a therapist, but it must have been hard to trust mental health professionals completely, as at least 50,000 people, including unhappy housewives, were lobotomized in the early 1960s. Even if most housewives were ignorant of extreme cases, the pressure to be perfect was probably enough to keep them from admitting they needed help.
Today, therapy is widely popular, and we don't have to fear that our therapist might talk behind our backs with our husbands or that we'll get lobotomized, but many women still worry about the stigma associated with getting the help of a therapist. Do you?