Does an Engagement Story Matter?
Does an Engagement Story Matter?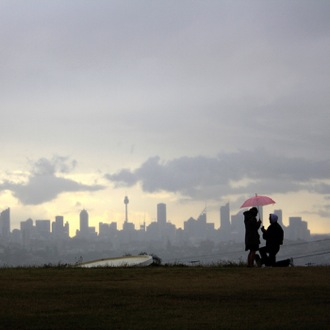 When it comes to popping the question, men typically face a lot more pressure. Traditionally, they're the ones who have to pick out a ring, get on one knee, and hope that she says yes. But once she does, nothing else should matter right?
Not exactly. As a newly engaged couple you might find yourself being asked: so how did he ask? Which could be awkward if you don't have a good story to tell. Yesterday a recently-engaged reader vented about her situation. She wrote: "Well, after we ate our peanut butter and jelly sandwiches at some run down picnic table he got up, knelt down and asked me to marry him.  As soon as I realized what he was doing I thought "not now!" but held my tongue and just went with it." Now she's embarrassed about telling people how they got engaged. Of course, you could make this very story sound romantic by emphasizing how cute and authentic it was that he proposed while you were doing something as simple as eating PB&J. Like my dad always says: "the quality of your life depends on the story that you tell."
If you are planning a wedding, already happily wed, or still looking for Mr. Right, start sharing your big day with our community. Don't forget to check the wedding content box on your post.
Source: Flickr User dexodexo