Does the Word "Feminist" Make You Cringe?
Does the Word "Feminist" Make You Cringe?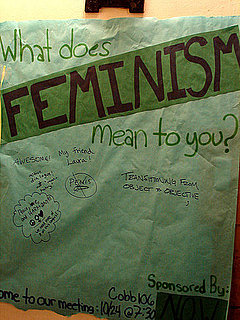 This may sound like an out-of-date question for the long beleaguered word, but as I said Wednesday, the word "feminism" is increasingly meaningless. Gen Y women grew up reaping the movement's benefits, while Gen Xers, though they benefited too, were berated by those who fought the fight. Hatred for the word is kind of a like a dog whistle — a noise only some can hear!
Today, the new owner of Venus Zine, a publication that began in 1995 with the mission of covering "women in music, art, film, fashion, and DIY culture because not a lot of other publications do," said she wants to distance the magazine from feminism, the word. Her rationalization seems to be the magazine can capture a bigger audience by talking about powerful women without being explicitly feminist. Judy Berman, at Salon's Broadsheet, is upset over its new direction, saying the magazine is crumbling to economic pressure and trying to attract as many people as possible. Maybe! But that certainly sounds better than the entire magazine crumbling.
Double X's Jessica Grose pinpoints the problem: it's not with the idea of feminism or its ideals but with the word and its ever-changing definition. She says, "Either feminism is something with a less-than-specific meaning that can be used broadly, or it's something with a very particular ideology that should not be used so casually."
So does the word drive you crazy?
Source: Flickr User quinn.anya