Dominique Strauss-Kahn Case Discouraging Rape Victims
High-Profile Rape Cases That Dig Into Victims' Pasts May Prevent Others From Coming Forward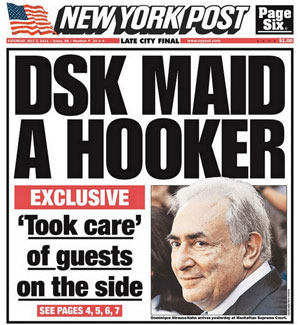 For victims of rape, it's hard enough to share the horrible experience with your loved ones, much less a courtroom. And a legal (and media) system that puts the rape victim's life on trial instead of the alleged rapist most likely discourages even more women from reporting sex crimes.
By forcing women to share intimate details of their sexual history, the trial experience for a rape victim is so embarrassing and demeaning it's no wonder six out of 10 assaults are never reported to police. And of those that are, many don't even make it to trial. The president of RAINN (the Rape, Abuse and Incest National Network), Scott Berkowitz, says, "15 out of 16 attackers will never spend a day in prison."
The most recent example of this disheartening reality is the high-profile Dominique Strauss-Kahn case. Despite the former International Monetary Fund chief's troubled history with women, it's the alleged victim's past that will likely cause prosecutors to drop the case. Berkowitz says the case "certainly makes it a more challenging environment, both for victims and on the prosecution side."
Eliina Keitelman, who was raped when she was 14, sums up the problem perfectly: "Why is SHE on trial? Do bad choices in your past mean you can't get justice in your future?"