Dorks in Pop Culture
Are Today's Dorks Tomorrow's Leading Men?
Here's a post from OnSugar blog My DISFunkshion.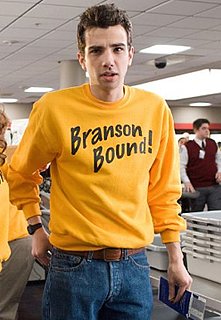 Society has finally taken notice, once again, of the charm socially inept men bring to the silver screen. Perhaps you haven't noticed but this is a rebirth . . . a rebirth of the dorks.
A dork is commonly described as an individual who has difficulty interacting in social situations. It is finally becoming apparent to the masses that the most charming leading men may also be the most awkward.
Have you noticed them cropping up everywhere? Michael Cera, as the awkward but polite Evan in Superbad, Jay Baruchel as the inexplicably nice but scrawny Kirk in She's Out of My League, and Zachary Levi as the adorably genuine Chuck on Chuck.
The last time I saw a feeding frenzy this substantial was when Patrick Dempsey was in Can't Buy Me Love. His lanky body and unkempt curls made him the cute and approachable dork he always played; eventually he dropped off the radar until he became a pivotal hunk in Sweet Home Alabama and McDreamy in Grey's Anatomy.
It stands to reason that the dorks of today are the leading men of tomorrow. Perhaps men don't have to be suave and stylish to be society's leading men, maybe they just have to be themselves. And maybe if we're lucky, we'll find our own endearingly awkward guy to be the leading man in our lives.
Want to see more? Start following My DISFunkshion or start your own OnSugar blog. Maybe your stories will be posted here on TrèsSugar!