Elizabeth Banks Interview on Girl Scouts
Elizabeth Banks on "Great Broad" Nora Ephron and Her Summer Camp Romance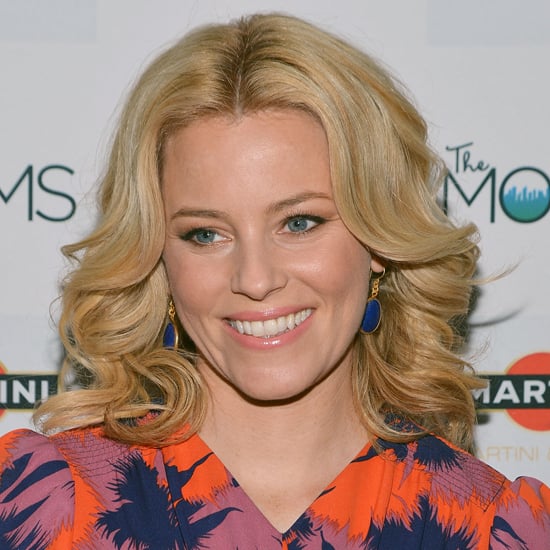 People Like Us comes out today, and I chatted with the film's leading lady, Elizabeth Banks, about her role in the dramedy. She describes her character Frankie as "a struggling single mom with an alcohol addiction who really needs a break in her life." And adds, "The break comes in the form of Chris Pine's character Sam, who as it turns out, is a brother that she never knew she had." Although this role is serious, Elizabeth's comedic roles from movies like the recent What to Expect When You're Expecting and cult favorite Wet Hot American Summer seem more aligned with her fun-loving personality, which came out during the interview and fans get a glimpse of on her personal blog. Read what Elizabeth said on everything from her Girl Scout days to who she could see as the first female US president now. And watch the video of the interview at the end!
TrèsSugar: What drew you to People Like Us?
Elizabeth Banks: I just loved the characters, and it's a character-driven movie. It's really a story about connecting with your family. I went on an emotional journey when it first came to me and I really loved it — people have been watching it and saying to us, "Gosh this movie inspired me to call my mom or text my brother, or call my dad." I think it's a great message. We don't have a lot of time with each other on this earth together and let's make the best of it.
TS: You've said that you're not as badass as Frankie, but are there ways that you can relate to her character?
EB: Absolutely, I saw a lot of myself in Frankie. She's just trying to hold it together, and I think a lot of women who carry the weight of the world on their shoulders every day, especially working moms, can relate to this character. There's never enough money, there's never enough time, there's never enough reliable help around, anything you plan always goes wrong — it's just hard to be human, isn't it?
TS: Do you agree with director Alex Kurtzman when he said that you and Chris Pine look like siblings?
EB: If you mean are we two good-looking white people who live in Hollywood, yes, but I think there are probably a lot of us out there. I just love that people think that about us. We're both blondies with blue eyes . . .
TS: Is there a past costar that you have a sibling-like relationship with?
EB: I have sibling relationships with a lot of my costars, but probably Paul Rudd. He and I have made a lot of movies together. Also Tobey Maguire and I have made about six movies together.
TS: Do you have an example of a sibling moment with one of those two?
EB: We just are constantly giving each other crap back and forth. Like any good little sister, I'm constantly making fun of them. They dish it right back out to me. It's a one-ups-manship contest 24/7 with those guys.
TS: You've played a wide variety of female types: Effie Trinket, Avery Jessup, Laura Bush, and my personal favorite Lindsay in Wet Hot American Summer. Who was the most fun to play?
EB: There's a lot of fun being had. I really loved Beth the bookstore clerk in The 40-Year-Old Virgin. I thought she was really fun. I just thought, "Oh, I know this girl. She lives in the valley in LA, goes to community college, and is just looking for a good time. She'll probably never make much of her life, but she'll marry and have kids." I just saw her whole life laid out in front of me. I really loved Beth; I just loved how much fun she wanted to have.
TS: What funny actresses inspire you?
EB: I'm really inspired by the classic actresses. Rosalind Russell is an all-time favorite of mine — I think she's fabulous — I based a lot of my Effie Trinket character on Rosalind Russell. I'm a huge Lucille Ball fan, and I was a huge Carol Burnett fan, May West, Marilyn Monroe. Anybody I felt really paired a comedic sensibility with a vulnerability with sort of a pathos, those are the ladies I loved.
TS: On a sad note, I saw your tweet about Nora Ephron's passing, which was such a loss. How did she inspire you, and do you have a favorite film of hers?
EB: Well, I love When Harry Met Sally, of course. I loved Julie & Julia, I thought that was a great movie. Nora Ephron, in my opinion, was one of the great wits of our day. She's compared a lot to Dorothy Parker, and I think she was even a brighter woman than Dorothy Parker and inspired me because she was not only an amazing writer, but she was a director in Hollywood. There are not many female directors in Hollywood. She was always very passionate about what she did, she was a passionate woman, she loved being a woman. I think she advocated for women and I was just so inspired by her. I was very lucky to meet her and hang out with her, and I just thought she was a great broad. I hope someday I can even come close to her essence.
Keep reading to find out about Elizabeth Banks's Summer camp romance!
TS: You've said that Dirty Dancing is your favorite Summer flick. Did you ever have a Summer romance?
EB: I did have a Summer romance, yeah. I was a co-camp counselor once, we took care of a bunch of kids, and then we went on a couple dates. It was a very chaste Summer romance and there was no dirty dancing involved, unfortunately.
TS: Did you use that as your inspiration for Wet Hot American Summer?
EB: A little bit, yeah. I didn't go to sleepaway camp. I can't even imagine the craziness that happens at sleepaway camp. The closest I ever came was making Wet Hot American Summer.
TS: What's on your Summer reading list?
EB: Oh gosh, I have so many favorite books. I'm a voracious reader, I love reading. [For my blog's book club] we're reading All We Ever Wanted Was Everything — which I think is such a fun title — by Janelle Brown. I loved The Road by Cormack McCarthy, I think it's an incredibly moving story about fatherhood, and I also loved Michael Chabon's The Amazing Adventures of Kavalier & Clay. Those are two books I can absolutely recommend without hesitation.
TS: I feel like, if there were ever a TV character I could see as our first female president, Avery Jessup would be it.
EB: I think Avery Jessup would agree with you.
TS: Do you think we'll elect a woman president soon? Who could you see in the White House?
EB: I'm really hopeful that there will be one. I'm really, really hopeful about it. I am a huge Hillary Clinton fan, and I think she's an amazing Secretary of State. I think women need to be asked; we don't feel entitled to it, and I would like to encourage all women out there who want to change their circumstances to change the world around them, to run for office. I think it's a great way to give back.
TS: Who else do you admire?
EB: The first person who popped into my head who's young, fresh, and making a difference was Sandra Fluke. She's the woman who testified before Congress and then Rush Limbaugh made horrible comments about her. I've met her twice now and I have to say she is the most articulate, amazing woman. She just graduated from Georgetown Law School and I encourage everyone to follow her on Twitter, she's amazing.
TS: You're promoting Nestlé Girl Scout cookie candy bars. As a former Girl Scout yourself, what skills from your troop days have helped you as an adult?
EB: I learned how to ride a horse as a Girl Scout, and my first big movie in Hollywood was Seabiscuit. I rode horses in that movie, and I think I would have been scared out of my mind to do it if I hadn't already been riding horses for years because of the Girl Scouts. So that helped a lot. The other thing I learned how to do in Girl Scouts was — well, supposedly — how to start a fire by rubbing rocks together. I could never get my fire started. So I know the theory behind how to start a fire in the middle of the woods, but I don't think I ever actually got mine to go. I love those kinds of tomboy skills.
TS: Any funny stories from when you were a Girl Scout?
EB: Gosh — it was a long time ago — I did the Girl Scouts with my sister and my cousins and we were just a big gaggle of girls. It made it really hard to sell cookies, unfortunately, because we were all together and our aunts and uncles had to spread the wealth. There was no way I was ever winning the cookie-selling contest. My only goal was to beat my sister at selling cookies, that was my goal every year.