Elizabeth Banks Pitch Perfect Interview
Elizabeth Banks and Her Husband Take Us Behind the Scenes of Pitch Perfect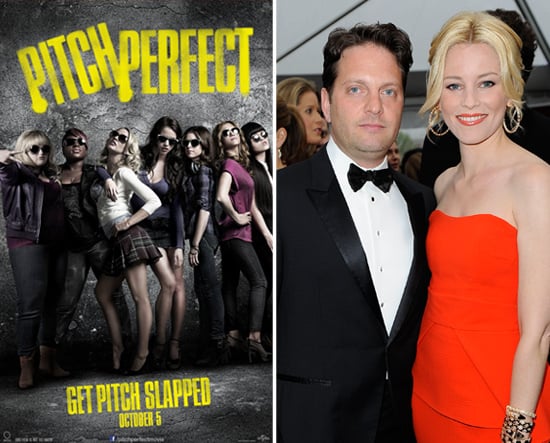 Musical comedy Pitch Perfect, out today, hopes to graduate a cappella music to the mainstream. The movie stars Anna Kendrick as college freshman Beca Mitchell, who gets recruited to her school's all-girl a cappella ensemble. Once in the group, Beca mixes up their outdated song list with the hopes of beating their boy-group rivals. The cast includes Oscar-nominated Anna Kendrick, Rebel Wilson, who played Kristen Wiig's hilariously awkward roommate in Bridesmaids, and Adam DeVine from Workaholics.
The film's producer Elizabeth Banks makes a cameo, too. But she was in full producer mode when I sat down with her and husband Max Handelman on Pitch Perfect's Baton Rouge set last November. Elizabeth and Max met on the first day of college at the University of Pennsylvania, and the couple produced Pitch Perfect together. While on set, I got to see performances by the rival groups, and let me tell you: your favorite pop hits from the likes of Flo Rida or Lily Allen sound great a cappella. If the trailer, seen below, made you excited about Pitch Perfect, find out more about the project from our interview with Elizabeth and Max.
Just keep reading to see the trailer for the movie and read my interview.
What drew you to this project as producers?
Max Handelman: It was based on the book Pitch Perfect. We went to the University of Pennsylvania, which is, if not close to, ground zero for a cappella. I remember being dragged to a show at one point and seeing how these kids were rock stars on stage, particularly the guys. When you see them perform, you realize that they're rock stars in their own kind of subculture. I just love the notion of superstars in your own little world and how proud they were, how committed they are.
Elizabeth Banks: I think people are drawn to aspirational stories. This is a story about nerdy girls becoming rock stars. I remember going to the same type of performance of the Penn Six 5000, and this guy Mike sang "Rocket Man" better than Elton John. And I was in a biology class or something with this guy, and I never had any inkling that he had this ability until we saw him. It was a pretty big turn on.
So, you understood the rock star appeal I see?
Elizabeth: Yeah. It's also a coming-of-age story. What am I going to do? Who am I going to be in my life? When you get to college, you get a do-over, right? Whatever you were before doesn't matter, it's all about starting over. So you get to be whoever you want to be and this is sort of about Beca Mitchell (Anna Kendrick) figuring out who she's going to be and wondering if she made the right or wrong choice throughout the movie.
Did you know who you wanted to cast?
Elizabeth: Everyone auditions. We were really thrilled by the response to the script. It's a really funny script. As an actor myself, the opportunity to sing and dance and be dramatic and be funny — it's really irresistible to actors. You get to show all sides of your talent.
What about the songs? Were there any you were dying to include?
Elizabeth: The opening song has been in the script the whole time. It's Rihanna, and we fought to keep it Rihanna throughout the whole process. We've been working on the project for almost three years. It was Rihanna three years ago, and it's Rihanna today.
Max: The landscape changes so quickly, particularly for the youth demographic. Who's hot today, 18 months from now could be just gone.
Elizabeth: We were trying to mostly use classics or things that we feel like are going to be classics.
Are there other challenges to making a musical film?
Elizabeth: We have no instruments, so every song that we chose, we don't just do a cover. We literally have to arrange for voices that we have and make it sound just as good. You would not know that Rihanna would sound just as great coming out of Adam DeVine's mouth, and yet, it does because we have a great arrangement.
How does the screenplay capture the subculture of a cappella?
Max: The script was written by Kay Cannon, who's a mainstay on 30 Rock.
Elizabeth: She writes my character (Avery Jessup).
Max: She's a good friend of ours and is a huge singing and a cappella nerd herself.
Elizabeth: She's not an a cappella nerd herself. She's never heard of a cappella.
Max: She's a huge karaoke nerd.
Elizabeth: Correct. She loves to sing.
Would you say the female characters are different, or more dynamic than what we're used to seeing?
Elizabeth: I don't believe I've ever seen a character who calls herself "Fat Amy" (Rebel Wilson's character). I remember in early drafts of the script, I was like, I don't know if you can get away with that, but we do it and it's great. Rebel really embodies it, and it's partially because Kay wrote it so well. She just owns, and it's just about a girl who owns it.
Max: When you see this film, there's going to be different characters to identify with for all sorts of different people. Our hope and our expectation is when you see this film you're going to be like, I remember that girl from college. I knew that guy. That guy was my boyfriend. Frankly, some of these characters are based on people we knew.
You met in college. How would you describe each other in college?
Elizabeth: We're more boring than any other characters in this movie. He was overly confident. And I'm exactly the same, even the face.
Max: She does pretty much look exactly the same. It's kind of amazing. It was actually fairly unglamorous. We were just two college kids.
So this movie is all about singing. What are your go-to karaoke songs?
Elizabeth: You only have one.
Max: I have one. My song is "The Weight," by The Band.
Elizabeth: I'll do anything by Irene Kara.
To find out more about the movie, "like" Pitch Perfect on Facebook.