Elma Baker on Awkward Dates
Awkward! An Urban Virgin's Dating Horrors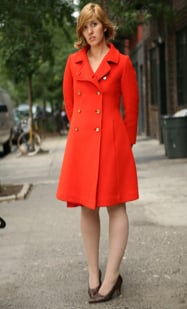 You think your dates are awkward! Imagine explaining why you're a 28-year-old virgin living in New York City. Elma Baker — author of The New York Regional Mormon Singles Halloween Dance — explained to L Magazine just how wrong dates can go when you keep men at a chastity belt's distance. Especially when you're out with a Frenchman!
"You're a Mormon?" he asked, as soon as I arrived.
"Yes."
"Can you have ze sex?"
I was surprised at his candor. "No," I answered.
He looked at me in disbelief. "Well if you can't have ze sex, what can you do?"
For simplicity's sake I took my left arm and lined it up under my collarbone. "Nothing below here," I said. I lined my right arm across my knees, "Nothing above here."
"What about your armpit?" he asked, "Can your boyfriend do anything he wants to ze armpit?"
I thought for a moment, "Yeah," I said optimistically. "My boyfriend can do anything he wants to my armpit."
"This is good," he said, "He can stick his penis in and out of ze armpit, and if you grow hair it is almost like a vagine."
My jaw dropped. "Is it too late to change my answer?"
Can you top zes?


Source