Emily Giffin's Matchmaking Event
Spread the Love: Taken Friends Can Make Great Matchmakers
Editor's Note: The following is a guest post written by Emily Giffin, author of Something Borrowed and four other best-selling novels. For more from Emily, like her on Facebook.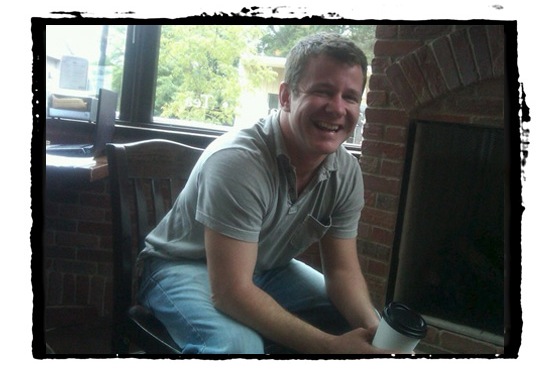 Last Fall, I was in a coffee shop, trying to write, when I struck up a lively conversation with a charmingly suave, but not too suave, guy on an adjacent fireside couch. He had nice hair, warm eyes, and was wearing satisfyingly distressed Levi's paired with manly boots — part cowboy, part John-Varvatos cool.
Through our chat, I learned that he was single and looking for, in his words, "a kind girl." I swooned in a married-girl sort of way, and then, on a whim, snapped his photo with my phone. Later that afternoon, I posted it on my Facebook fan page, sure that there would be some takers in the 404. Within an hour, there were over two-hundred comments from girls in Atlanta and all over the country. Parker Estep became an instant cult figure on my page, and my moonlighting matchmaking career was born.
Find out more below!
A week later, I went to a speaking event in Sacramento, and during a local television interview, met the very eligible weatherman. I snapped, posted, fielded comments. A short time after that, while in LA for a screening of Something Borrowed, I cut my foot on a glass at the Beverly Wilshire. While at the ER getting stitches, I didn't forget my sworn allegiance to my Facebook girls — and snapped a photo of my smokin' hot X-ray technician. And so on and so on . . . until the idea culminated in a big party, this Friday at Pranna in NYC, to which I'm bringing my six favorite bachelor buddies, all of whom I've unveiled on Facebook to the giddy delight of my 50k mostly-female followers. Eric the surgeon from Boston, Jamal the actor from LA, Doug the entrepreneur from Philly, Joe the professor from New York, Zach the chiropractor from St. Louis, and of course, sweet Parker from the coffee shop.
I recently read that one in eight married couples in the US met through some form of social media — so I'm just hoping to do my part to spread the love. Ladies — if you can't be lucky enough to be seated next to Parker while drinking your latte, keep your eyes peeled on Facebook and take advantage of your entire social network, especially your taken girlfriends. They're bound to know some eligible bachelors, as well as something about your taste in men. And guys — if dating websites aren't working for you, you might want to try a couple of chick-lit fan pages (hint: it helps to read the book first!). Just don't forget to invite me to the wedding.