Eminem Is For Gay Marriage in Michigan
The New Eminem Is Not an Old Homophobe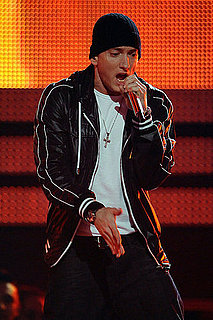 Eminem may have called 36-year-old Moby an old "fag" eight years ago in the lyrics of "Without Me," but at 37 Eminem is now rhyming to a new beat. He talked to the New York Times Magazine about his new album, Recovery, out next Monday, and his own recovery from drugs, misogyny, and homophobia.
Maybe it was his unlikely friendship with Elton John, who helped him kick his drug habit, or maybe he was never as homophobic as his lyrics suggested — he was portrayed as a friend to gays in 8 Mile — but when asked if he'd like to see gay marriage passed in his home state of Michigan, he had this to say.
"I think if two people love each other, then what the hell? I think that everyone should have the chance to be equally miserable, if they want. . . . It's the new tolerant me."
Does this new tolerance extend to women? NYT asked if he regretted some of his more misogynist lyrics. "Anything I've ever said, I certainly was feeling at the time," he said. "But I think I've calmed down a bit. My overall look on things is a lot more mature than it used to be."
Do you believe him?