Erykah Badu Fined For Window Seat Video
Do You Have a Problem With Public Nudity?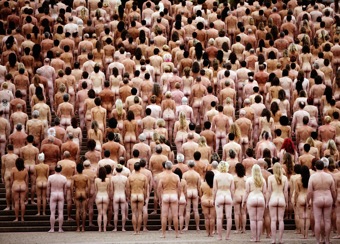 On April Fools' Day pranksters rode the NYC subway sans pants and sans underwear. New Yorkers have a reputation of being hard to shock, so most riders did their best to act like they didn't notice their naked neighbors. But the prank definitely disturbed some of you, who thought maybe the nudity crossed the line (not to mention the germs!).
In the days before April 1, singer Erykah Badu tried her hand at public nakedness when she debuted her video for "Window Seat," which features her taking off her clothes in Dallas's Dealey Plaza, the site of JFK's assassination. But instead of looking for laughs, the singer wanted to symbolically rid herself of baggage while also challenging the limits of a conformist society.
The video ends with her mock assassination demonstrating that people are "quick to assassinate what they don't understand." Erykah explains her point: "I guess 85 percent of the world is a part of what we would call Groupthink, that's like a form of thinking that causes you to bury what you really feel inside to please the group so that you won't be ostracized by the group." In the end, many people were conventionally outraged and the Dallas police have fined her $500. I guess she proved her point.