Essay About Being Blind in One Eye on Wedding Day
I Was Blind in 1 Eye at My Wedding . . . and Hardly Anyone Knew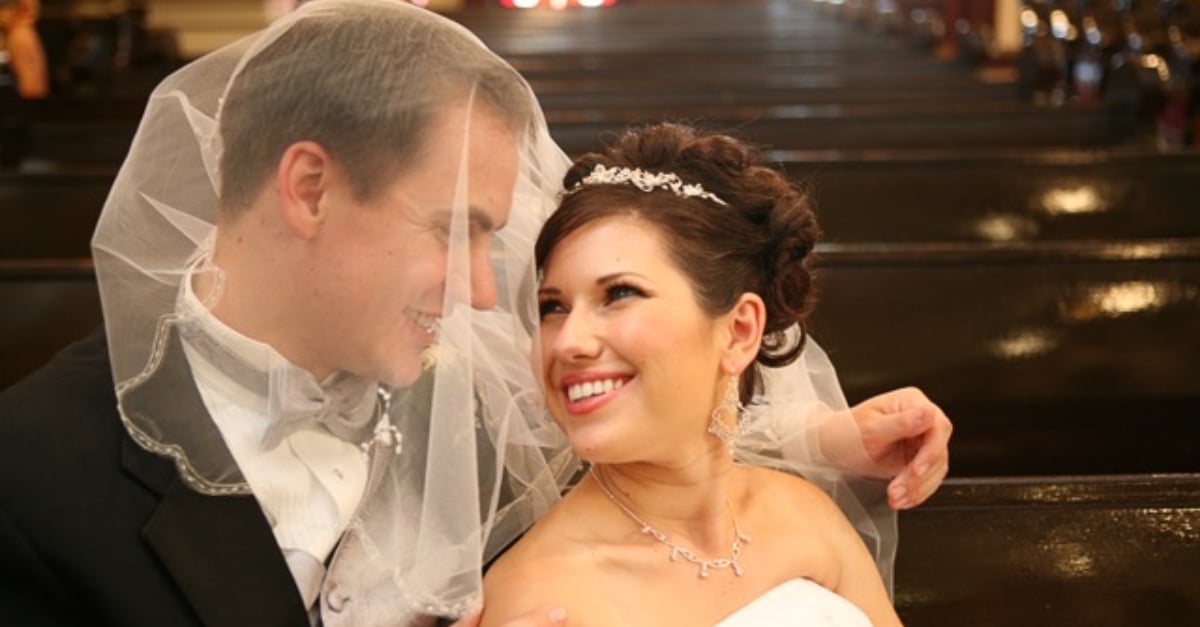 Amazing. Radiant. Gorgeous. These are all ways a bride wishes to look and feel on her wedding day. Unfortunately in my case, I feared I'd look and feel the complete opposite, and it was because of my right eye.
About a year before my wedding, my right eye contracted an extremely rare and horrific eye infection called Acanthamoeba keratitis. Basically, a parasite was attacking my eyeball and destroying my cornea. The treatment to stop the infection consisted of putting toxic eyedrops into my eye around the clock for three months straight. My doctor said it was comparable to putting Clorox into my eye.
Although the eyedrops were eventually able to get rid of the infection, the aftermath left me blind in my right eye. As for the appearance of my eye, what used to be a pretty blue I received compliments on my entire life now had the appearance of a clouded blue haze, comparable to a "wizard's eye." You couldn't even see my pupil. I was embarrassed and ashamed of my appearance, so I kept my head down as often as I could when in public. It really took a toll on my self-esteem and self-confidence.
My doctor said it was too soon for me to have a cornea transplant, and I didn't want to postpone my wedding any further. (My husband and I had already been engaged for three years.) As much as I love pirates, having a pirate-themed wedding so I could get away with wearing an eyepatch was definitely out of the question. My only real option to hide my eye's appearance was to cover it with a customized cosmetic contact lens. I must have tried on 10 different colored shades of blue glass contact lenses, but the doctor was finally able to match my eye color. When my husband and I initially made our wedding budget, we most definitely didn't factor in a $300 contact lens. Like most brides, looking and feeling great on my wedding day was very important to me, and I was willing to do whatever it took, even if that meant wearing an expensive and uncomfortable piece of glass in my eye for an entire day.
It was money well spent. I don't mean to sound conceited, but I truly felt amazing, radiant, and gorgeous on my wedding day — all the ways a bride should feel. The contact lens gave me enough confidence to happily look at my guests in the eye when we spoke, comfortably pose for thousands of pictures, and be front and center on the dance floor. The vast majority of our guests had no idea that I was half blind or about the eye infection I had, and that is exactly what I hoped for. That day was about moving forward and starting a new life with my husband. I didn't want my eye to take away from all the love and happiness of that wonderful day.
Although I literally spent my wedding day half in the dark, the day brought so much light and joy to my life. My husband said I would have still been the most beautiful bride he had ever seen even if I wasn't wearing that contact lens, and I love him for that. And perhaps it was a bit superficial of me, but it was something I had to do for myself. Of course, I wanted to look my best on our special day, but it was truly more about the way I felt rather than the way I looked.
My husband and I will be celebrating our 10-year anniversary this year. Over the years, our looks have changed — some extra weight here, a gray hair there (I did finally get a cornea transplant, by the way), but the way we feel about one another has remained the same, and that's what it's all about, isn't it? Finding the beauty within yourself and in others and falling in love with that spirit over and over again.
Image Source: Cristina Margolis