Facebook Adds Domestic Partnership and Civil Union Relationship Status
Facebook Adds Civil Unions and Domestic Partnerships — What's Your FB Status?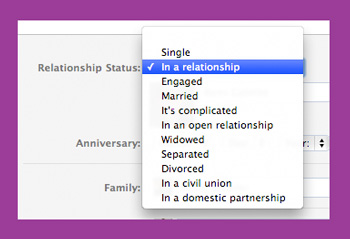 Updating the Facebook relationship status just got a lot less complicated for couples in a domestic partnership or civil union. The site has added two new categories — "in a civil union" and "in a domestic partnership" — which are being rolled out so far in the US, Canada, France, the UK, and Australia. Now there are a total 11 ways to describe your love life on Facebook, including the previous options of single, in a relationship, married, engaged, it's complicated, in an open relationship, widowed, separated, and divorced. So I want to know, what do you currently flaunt on your profile?