Facebook Election Stats
Female Liberals Had Highest Voter App Turnout on Facebook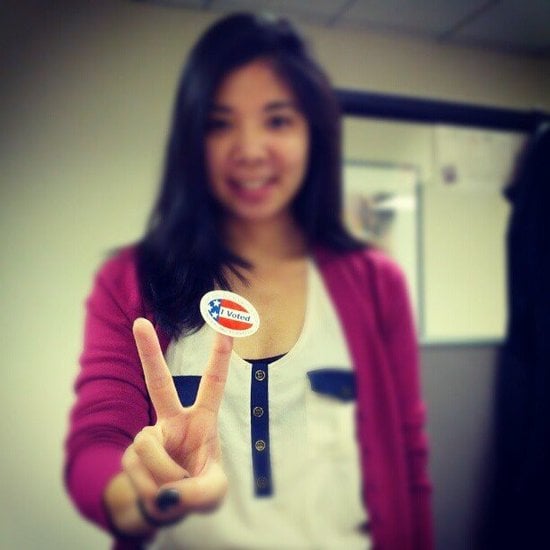 If you're a Democratic woman who likes Michelle Obama (and binders full of women), you probably voted in this year's presidential election. Well, at least according to Facebook.
Thanks to the site's stats we already know what your Facebook "likes" say about your political party, but now the social media powerhouse has released findings on what type of Facebook users went to the polls this last election. The numbers on who participated in Facebook's voter app — an election day message on the top of the site with the option to click "I'm a voter" — give us a limited picture on who turned out on election day, but considering 9 million users used the app (out of Facebook's total 168 million US users), it's worth looking at.
Here's what we learned from the app stats:
App participants "liked" Michelle Obama and Paul Ryan more than the presidential candidates. In the data on Facebook turnout based on a "liking" a celebrity, First Lady Michelle Obama and VP hopeful Paul Ryan took the No. 1 and No. 2 spots, respectively. President Obama was third, and Mitt Romney was 17th.
Twice as many women than men used the voter app. And while we've seen slightly higher voter turnout from women in recent elections, the drastic gender difference on the site is just another example of how women share more in general on Facebook. Typically female users comment, "like," and update their statuses about twice as much as men.
Liberal users participated more. Those who stated their political affiliation as "Democratic" and liberal" were most likely to push the Facebook "I'm a voter" button. Next up were the Green and Libertarian parties, Republicans, independent, conservative, other, and not surprisingly, apathetic at the bottom.
Nicki Minaj and Boo fans were less likely to use the voter app. The low participation numbers came from those who "liked" celebrities like Nicki Minaj, Adam Sandler, and LeBron James, as well as "cutest dog in the world" Boo.
See some of Facebook's charts below!