Facebook Gay Marriage Profile Picture
Is Your Facebook Profile Going Red For Gay Marriage?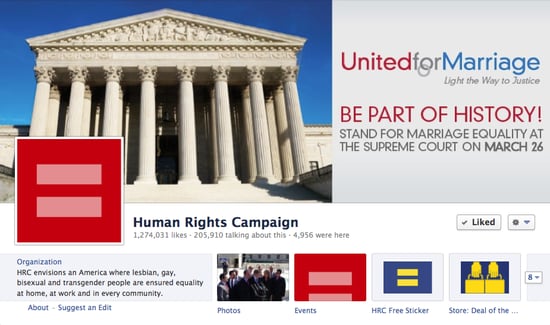 In the midst of the Supreme Court hearings this week on gay-marriage laws, the Human Rights Campaign is urging supporters of same-sex unions to "go red" with their Facebook profile picture by using this red and pink version (to symbolize love) of its blue and gold equality logo. The campaign got a major boost when Star Trek star and gay-rights advocate George Takei posted about it on Facebook to his 3.7 million followers, writing:
For those friends wondering, this special "red" equality symbol signifies that marriage equality really is all about love. Thanks to the Human Rights Campaign for this effort. Please consider changing your profile today in support — esp if you are a straight ally.
So no matter what your sexual orientation is, will you be "going red" with your Facebook profile picture?