Facts About the Female Condom
5 Things You Should Know About the Female Condom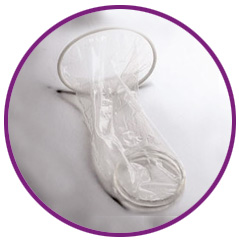 "Put a ring on it" is the cheeky slogan behind The Chicago Female Condom Campaign. The coalition of HIV/AIDS, reproductive justice, women's health, and gay men's health activists is working hard to raise awareness in Chicago and beyond about female condoms — a form of contraception just as effective as a male condom in preventing STIs, HIV, and pregnancy. A rep for the campaign spoke at this weekend's sex::tech conference, and here are five useful facts she shared.


It's quiet! Some users of the first-generation female condoms would complain about a crinkly sound. No more with version 2.0, approved by the FDA last December.
It increases pleasure. Zoe Lehman of The Chicago Female Condom Campaign explains that during vaginal sex, the inner ring stimulates the penis, while the outer ring stimulates the clitoris.
It's empowering. Zoe described it as a "super-sexy prevention tool that empowers receptive partners." Unlike male condoms, the power is in the woman's hand, giving you more control of your sexual health.
You can insert it hours before sex. That means no interruption, and again, more control.
It's great for people with latex allergies. Female condoms are hypo-allergenic!
Check out more of the basics on the Put a Ring on It site. Would you consider using one?