Female Sex Addiction
The Lady Is a Sex Addict: 7 "Cures" For Female Sex Addiction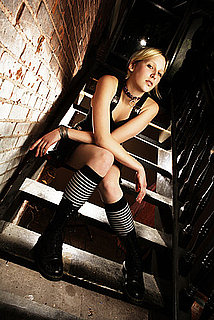 A dirty mind may be a terrible thing to waste, but it's also a curse to have as far as Dirty Girl Ministries founder Crystal Renaud is concerned. "God created sex," she told the New York Times, "but the enemy has twisted it."
If "it" is sex, I can only imagine Crystal is the "enemy." She named her group Dirty Girl Ministries to capture search traffic seeking porn. Once converted she helps her disciples overcome their so-called sex addictions. Sex addiction is already a disputed enough term. We questioned its validity when the hypersexed Tiger Woods checked into rehab, but the sex addiction Crystal Renaud preaches is less about sex and more about sexuality. Viewing pornography, thinking about sex, and masturbating are all signs of addiction, and the only path to recovery is purity. Pure thoughts. No action.
So how do the self-proclaimed Dirty Girls stay clean? Not without relapse. Here are seven tips from the Dirty Girls Ministries forum to stay on the straight and pure path.
Get an accountability partner: Have 100 percent transparency with her, so she will be the first to know if you jump off the bandwagon and into a PG-13 movie.
Disconnect yourself: Ditch the iPhone for a bare-bones phone with no Internet access. If you must, get rid of the Internet until you can be trusted alone on it. Not possible? Download software that will report your Internet activity to your friends, "accountability partner," or mom.
Seek Christian counseling: Christian, apparently, because a secular therapist might suggest the root cause of a sexual appetite so voracious it interferes with life has nothing to do with "impurity."
Rubber bands!: Wear it on your wrist, and snap it every time an impure thought enters your mind.
Get the rest below.
Avoid "sexual surprises": Some Dirty Girls only watch movies and read books that have been approved by accountability partners, but those who don't are bound to chance upon a "sexual surprise." Skip the page, leave the room, or pick up the Bible. One day you may be as strong as Crystal Renaud herself. She recently watched the nude scene in Titanic without relapse.
Post-it notes: Put Bible verses on your computer screen or anywhere you might be "tempted."
Be proactive: If sex opens the door, tell it to get out. Write a letter to Barnes & Noble about how wrong it is to require one to walk through the love, sex, and relationships section to get to the recovery and addiction section. Injustice!