Feminist Themes From Mad Men
Mad Men: Don't Wait For a Man
On last night's episode of Mad Men, a flashback scene gave us a look at Don's early work, as well as a hint of women's liberation to come. Before moving on to Madison Ave., Don sold furs and made an amateur ad for the shop (starring Betty Draper!) that read: "Why wait for a man to buy you a fur coat?" While Don's copy paid lip service to independent women, the rest of the episode suggested that many men of the time had little desire to abandon sexist attitudes.



Don wins a Clio award for his Glo-Coat ad later in the episode. Although Peggy, our working woman and budding feminist, had a big part in the nominated ad, she doesn't get to attend the awards ceremony. Don isn't capable of recognizing Peggy's work, let alone the women he proceeds to sleep with over the course of the weekend. While Don goes on a bender, Peggy is stuck brainstorming with Rizzo for the Vicks cough drops campaign. Rizzo thinks of himself as liberated, but he's just an old-fashioned male chauvinist. "Are you on the rag?" he snipes at Peggy. And he easily calls her a "smug bitch" for asserting herself.

Second-wave feminism of the 1960s worked to address unofficial inequalities and sexism like we saw last night. To find out more keep reading.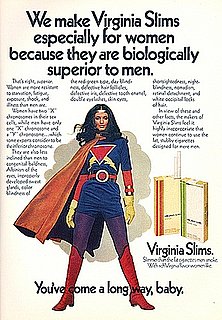 By 1965, the current year on Mad Men, Women's Liberation was in its infancy. The Equal Pay Act of 1963 offered a legal victory and in March of 1965, the Supreme Court would carve out reproductive rights for women, arguing that the right to privacy gave them a right to use contraceptives. But it wasn't until 1966 that the National Organization for Women was founded, and women had to wait until 1967 for full affirmative action rights. At the same time, ad men like Don were more than happy to monetize the mood of female empowerment in their ads. In 1968, Virginia Slims introduced its "You've come a long way, baby" ads with hopes of selling cigarettes to young professional women. In fact, companies still do this today. Big tobacco uses themes like independence when they market to women.
But back to 1965. We can put our hopes in women like Peggy. She stands up to Don when he steals an ad slogan and beats sexist Rizzo at his own game: challenging him to "get liberated" — aka work naked — while proceeding to mock the erection he gets at the sight of her exposed body.