Fewer Women Getting Boob Jobs
Fake Boob Deflation: Due to Change in Attitudes or Income?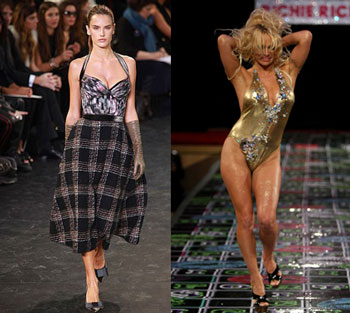 Boobs are back. Or so the runways at recent fashion weeks would have us believe. Boyish figures and clothes that ignore the female figure have long been all the rage among high-fashion designers, but this last season we saw some (relatively) voluptuous catwalkers.
But as fashion designers begin to embrace the boob, average women seem to be doing the opposite: fewer women are getting breast enhancements. The London Times points to Victoria Beckham's rumored decision to remove her implants and Disney's ban on actresses with fake breasts (show and tell required) as harbingers of a new chest trend. But are the masses imitating celebrities or are celebrities imitating the masses? Thanks to the recession, women have had to pare down their spending, which means less money for a new pair. So maybe it's a change in income, not attitudes, keeping women from going under the knife.
Whatever the reasons, perhaps the latest runway breast trend isn't in conflict with the movement away from enhanced cleavage. Both shifts abandon extremes — be it zero curves or plastic super-sized curves. If tougher economic times result in the embrace of the natural and diverse female figure, then the recession will have at least one silver lining. But don't get too excited. I'm sure once the number of boob jobs picks up, it will be celebrated as not only an indication of growing bust lines but also as a sign of economic growth.