First Date Activities That Keep It From Being an Interview
First Date Activities That Keep It Interesting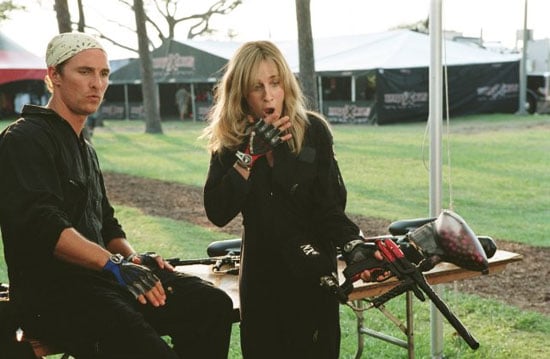 In her final diary entry, our anonymous blogging online dater lamented that first dates feel too interview-like, and who wants to be bored on a first date? While a little bit of back-and-forth "where did you grow up?" discourse is inevitable, when you're trapped on bar stools or in a restaurant booth with a new interest, nerves can get the best of us, and the date can devolve into a snoozefest fast. You may not be able to avoid a disastrous first date, but you can at least keep it entertaining with these 10 first date ideas that trump the usual dinner or drinks options.
For the bravest of daters, a game of laser tag or paintball adds a fun, competitive edge to a first date.
This Winter, break the ice, literally, by hittin' up your local ice skating rink for some laughs and laps.
Exploring an aquarium or zoo with a fellow animal enthusiast gives you plenty of other mammals to focus on.
Instead of sitting at a classy bar, go to your favorite dive bar for a game of pool, darts, or shuffleboard. You're both sure to feel more relaxed and less pressured to keep chitchatting if you have a game on your hands.
Ready for more ideas?
Take a cooking class or sushi-making class together for a foodie-friendly date night.
Are you an art lover? Find a local museum exhibit that's easy on the wallet and maybe even a bit out of the ordinary, for a first date full of "what in the world is that?" conversation starters.
Don't just share a glass of wine together, do a wine tasting at a winery or wine bar to gain some vino knowledge — just don't get too tipsy!
Do you feel the need for speed? Go-karting is a sporty and, from experience, hilarious date.
Mix up the ho-hum movie date by going to a movie in the park or drive-in flick.
Much less intense than the real deal, mini golf is the perfect outdoor first date.