Flirting Quiz
Discover Your Flirting Style — If You Have One
I just stumbled upon an academic inquiry into the age-old subject of flirting by the University of Kansas. I love taking surveys, so naturally I clicked away. It's based on the five types of flirts we already know: physical, traditional, polite, sincere, and playful. But the results — while probably correct — don't really sugarcoat things. Clearly, they were not written by a polite flirt!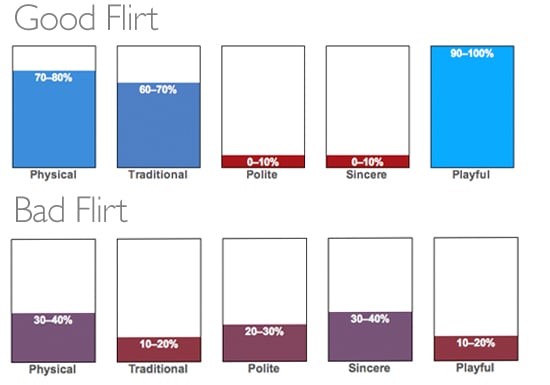 Above are the results for your TrèsSugar editors, and if you cannot tell by my bitterness the bottom results are mine and the top are Annie's. Yes, according to this survey I am a flirting disaster. Not only do my results say you are not "competent in expressing sexual interest to potential partners," but also "When flirting, it is not very likely that you are: successful." Well, you know, nobody's ever called me a flirt, so maybe it's not that far off.
Now we're wondering how Très readers stack up as a whole, so go take the survey and tell us your results below.