Fourth of July Party and Date Ideas
What to Do For the Fourth of July If You're . . .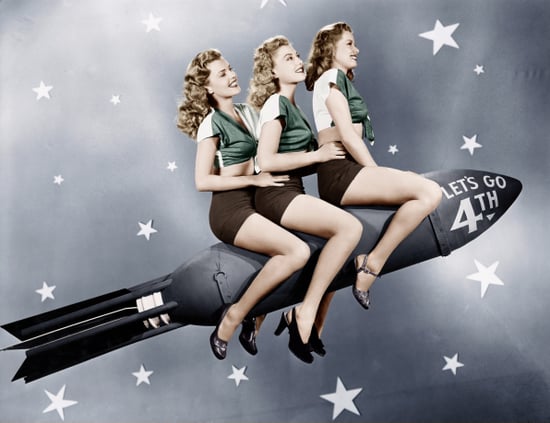 There's nothing better than a day full of BBQ, fireworks, and gorgeous weather on the Fourth of July — keep your fingers crossed San Francisco and Seattle. Whether you'll be spending the day with your beau or a big group of friends, here are some ways to enjoy the nation's birthday and bring in the Summer love!
In a Relationship
The Fourth is all about nostalgia; I remember popsicles, miniature flags, and fireworks. Go out with your sweetheart and do the things you both loved when you were little. Check out an amusement park or county fair. They're sure to have some pretty spectacular fireworks. Later that night, take a ride to see an old-school drive-in movie — an all-American date! Here are some more Fourth of July date ideas.
Single and Looking
Get out and enjoy the great outdoors. Plan a camping trip with a few friends where you can take long hikes and cozy up by a campfire. If indoor plumbing is more your style, lounge in a park or make a bonfire on the beach with the perfect combination of friends, drinks, and food. There will definitely be other crews around with the same idea. Don't hesitate to introduce yourself to people who are close by. Loosen up! It's summertime. And as always, the more the merrier.
Hanging With the Girls
Check out a farmers market in the morning and invite your friends over for a BBQ bash. Don't be fooled: girls can BBQ with the best of them. Have all the ladies bring their favorite dish, make some refreshing, signature Summer cocktails, and be prepared to laugh your face off. There's nothing better than making a mess in the kitchen with your favorite ladies.
Married and Need a Date Night
Do some research and check out an outdoor concert you and your hubby will enjoy. Pick up some tickets for your favorite band, or maybe you're lucky enough to have a city that offers a free concert series in the park. Either way, be sure to grab some brew, vibe to good tunes, and simply enjoy each other's company before you go back to the hustle and bustle of the work week.
Having Out-of-Town Friends Over
If you're having friends come to town, chances are they're looking to check out the best of what your city has to offer. Instead of schlepping around to see the sites like a tourist, seek out a cruise! Whether it's a quick trip on the lake or a booze cruise down the river, your friends won't forget fireworks with a view.