Frequent Sex Improves Relationships For Neurotics
Neurotic Newlyweds Should Have Lots of Sex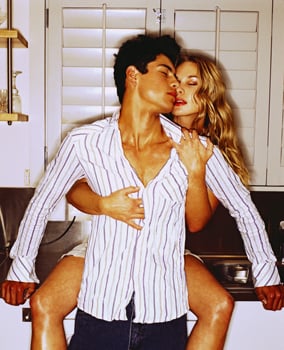 For most newlyweds, having more sex won't make a relationship better or worse, but today is neurotic couples' lucky day — though they probably won't see it that way. A new study found sex eases anxiety in their marriages only.
The term neuroticism is used often, but its meaning is not always so clear. Neurotics don't just see the glass as half empty, they worry where the next one will come from, if there's another one. They upset easily, change moods often, and worry even more. So it should come as no surprise that neuroticism is the personality factor most associated with bad marital outcomes.
Two researchers at the University of Tennessee followed 72 newlywed couples for the first four years of marriage, and found something exceptional among neurotics: frequent sex was so beneficial, it canceled out their happiness deficit and put them on par with non-neurotic couples, for better or worse.
It makes sense, though, because neurotics are always seeking assurance. And isn't sex one, big affirmation that everything's all right — even if it's not?